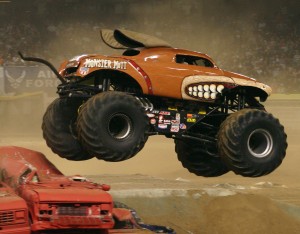 Recently, I finished my initial polished draft of The Monster Trucks of Mount MonstraCity, the second book in my planned Mount MonstraCity series for middle grades readers. This one, like the first (The Runaways of Mount MonstraCity), got an enthusiastic thumbs-up from the big reader in our house, my nine-year-old, Levi, who acted as my initial reviewer.
The first book features brother and sister Zacherly and Roxie Juke, two orphans who suffer bullying and frequent indignities at the Putterknuckle Benevolent Home for Orphaned Children in Seattle, Washington. They run away to Mount MonstraCity, located on Monstra Island, about seventy miles west-northwest of Seattle, Washington. Mount MonstraCity was founded early in the nineteenth century by members of the Frankenstein clan. Exiled from Europe, they established the new city as a haven for monsters of all types from every corner of the world. Zacherly and Roxie are lured to Mount MonstraCity by a mysterious stranger from the island, Oswald Blecho, who promises them positions as interns to famous Mad Scientists. Yet the actual fate that Blecho has planned for them is a terrible one… and Zach and Roxie soon learn that real-life monsters can often be far more dangerous than the movie monsters they've come to love.
The second book in the series was inspired by my middle son, Asher, who is fascinated by monster trucks. I figured, why not come up with a story about monster trucks on an island inhabited almost entirely by monsters? And why not feature monster trucks that are actually MONSTERS? Accordingly, my monster trucks are cyborgs powered by Ghoul brains.
This one was a lot of fun to write, even more fun, I think, than the first one. Zacherly gets to meet a wonderful new buddy, a preteen, twelve-foot-tall talking gorilla named Joe Ogg (hat tip, of course, to the classic Willis O'Brien Mighty Joe Young, which has always been a very special film to me). Roxie actually gets transformed into one of the monster trucks and ends up in dreadful trouble. So Zach, Joe, and their friend Ferra (a Werewolf) have to unravel the mystery of who is taking control of the monster trucks at night and sending them on secret missions to cause dissension between the island's Vampires and Werewolves. There are lots and lots of monster truck vs. monster truck battles and, of course, monster truck vs. MONSTER battles.
I'm loving working on this series. I'm already a quarter of the way through the THIRD book, this one inspired by my youngest son, Judah, who adores kaiju movies and action figures. This one's called The Battling Bigs of Mount MonstraCity. I'm writing it to be the greatest kaiju movie never filmed!