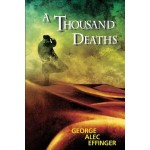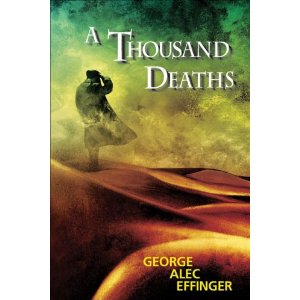 I've posted the Afterword I wrote for the third Golden Gryphon Press collection of George Alec Effinger's short fiction, A Thousand Deaths. The essay is a reflection on how George's favorite of his novels, The Wolves of Memory (included in the collection), ended up being a foretelling of the grinding events of the final decade of his sadly shortened life.
Marty Halpern, the last editor George worked with prior to George's death in April, 2002, was the driving force behind bringing the best of George's short fiction back into print. Marty (who also happens to be the best editor I've ever worked with — he edited The Good Humor Man, or, Calorie 3501 for me at Tachyon Publications) posted a terrific three part essay on his blog, More Red Ink, describing his role in the publication of the three GAE collections at Golden Gryphon. Here's Part One, regarding Budayeen Nights; Part Two, regarding George Alec Effinger Live! from Planet Earth; and Part Three, regarding A Thousand Deaths. All three Golden Gryphon collections featured gorgeous wrap-around covers by my favorite artist, John Picacio.
By the way, Marty is available for freelance work, either line editing or book doctoring. The man has the eyes of an eagle and is persnickety in all the best ways. If you need an editor, I couldn't recommend a better one.
Several years before I wrote the Afterword for A Thousand Deaths, I wrote a rambling and much more personal version of my friendship with George Alec Effinger and how I did what I could to help him during the last few years of his life. I published the piece on my first website from 2003-2006 (after which said website went defunct). That piece, "Remembering George Alec Effinger," can be found here, courtesy of the Internet Way-Back Machine.