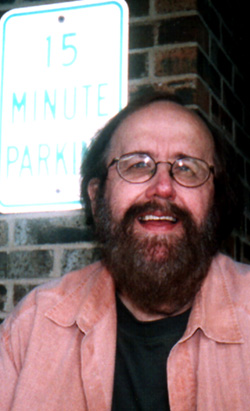 Many obituaries, many still to be written the world over, will focus on Lucius Shepard's tremendous body of work in the science fiction and fantasy field. Having known Lucius personally, I'd like to take a different tack. I'd like to focus on the Lucius who was such a good friend to my family and to me.
I had the great pleasure of meeting Lucius not too long after my first novel, Fat White Vampire Blues, hit the bookstores. I believe the first time Lucius and I spoke was at the World Fantasy Convention in Tempe, Arizona just before Halloween of 2004, when my first son, Levi, was less than a year old. Dara and I dressed Levi in a little gorilla costume for Halloween, and we walked from the hotel for some dinner with Lucius. When he found out who I was, Lucius said he'd read my book and told me to expect my protagonist, Jules Duchon, to receive fan mail.
A year later, at ArmadilloCon in Austin, Texas, Dara and I saw Lucius again. He mentioned that he'd be coming down to New Orleans to do research at the Tulane University library on William Walker for a book he was writing. Dara and I told him he should stay at our home on the West Bank of New Orleans and that I would be happy to drive him each day to the library and pick him up from the Algiers Ferry landing. While he was staying with us, one of my dining room chairs broke while he was sitting in it. Rather than getting indignant about how the incident might reflect on his great size and weight (Lucius was a big guy), he was incredibly apologetic about breaking my chair. To me, that's Lucius in a nut shell… a gentle, polite giant, a sort of huge tame bear who had somehow wandered into our home.
This impression I had of him was only solidified later that evening. Dara's and my cat, Snagglepuss, seemingly escaped the house when Lucius went outside for a cigarette break. Lucius and I spent an hour and a half driving through the neighborhood in search of that cat. I'll never forget Lucius's oddly high-pitched voice calling out, "Here, Snaggy! Here, Snaggy, Snaggy, Snaggy!" We later found the cat hiding in one of the rooms inside our home, so he'd never gotten out in the first place. But I'll never forget Lucius's very sincere concern. How strange it was, to have had one of the brightest stars in American literature sitting next to me in my little blue Ford Focus, calling out the window for a missing cat!
Lucius did something very special and very touching for me when my family and I were trapped outside our home for months in the aftermath of Hurricane Katrina. Knowing that there was a good possibility that my entire collection of books had been destroyed by the hurricane's floods (they weren't, after all, since Dara and I were fortunate enough to live on the West Bank, in a separate flood zone from the rest of New Orleans—but Lucius didn't know that, and neither did we at the time), and also knowing I had no reading material at the Florida condo where my family and I had taken shelter, Lucius shipped to Florida a carton of all of his books, signed and personalized. I have them on my shelves still.
Sad to say, Lucius and I did not stay in close touch after Hurricane Katrina. We never had any sort of a falling-out; we both just found ourselves too busy to do more than follow each other's ups and downs on Facebook. I would send him "get well soon!" messages whenever I read that he had had an eye operation or that he was laid up with some sort of an illness (which happened distressingly frequently).
The last time we spoke was the Sunday morning before I suffered my own personal mental breakdown (due to issues completely unrelated to Lucius). A friend of Lucius's, along with The Magazine of Fantasy and Science Fiction's editor, Gordon Van Gelder, had each emailed me and asked me if I would call Lucius at home so that he could practice his speech. He had suffered a stroke and needed to speak with friends he was comfortable with so that he could regain his speaking abilities. When I reached Lucius that morning, he was astoundingly upbeat about his prospects. I remember telling him, "Lucius, if I ever suffer anything like what you're going through, I hope I can face it with half the bravery and fortitude you're showing me this morning. All I can say is, you are a superhero!"
The very next day, I suffered physical symptoms related to my emotional breakdown which mirrored the impact of a stroke. A few weeks after I got out of the hospital, I sent Lucius a message on Facebook telling him about my experience and praising him as my role model; my experience of his bravery and fortitude had helped me get through that awful week in the mental hospital.
I don't know whether Lucius ever received that message; I don't know whether his stroke allowed him to check his Facebook messages. I also tried reaching him on the phone again, without success. But I hope he saw it.
Farewell, Lucius. As a friend, a writer, and a human being, you were a superhero to me!