These retro-futuristic images from Japanese magazines struck a chord in me. They raised emotions in my breast (bemused sadness and nostalgic longing) which are probably the precise opposite of the emotions their artists, either in the halcyon days of pre-WW 2 Japan or in the wildly optimistic and forward-looking Japan of the early 1960s, intended to inspire when they originally created these images (I imagine the artists, if they had any goal at all aside from cashing a paycheck, wanted to elicit feelings of awe and happy anticipation at the marvels the future would bring).
I think the reason these images inspire bemused sadness and nostalgic longing in me is that they were originally published, not in the pages of Japanese science fiction magazines, but in the Japanese equivalent of our American magazine Popular Mechanics, which meant that these gigantic, awe-inspiring machines were fanciful or fantastical versions of machines which were thought to be (someday) practical and buildable. Suffice to say, Japan never saw propeller driven trains like these envisioned in 1936 (this one's my favorite in this little selection; just take a gander at those fabulous passengers you can see through the windows!):
Or a super ocean liner which, when in distress, could launch self-contained life boat cruisers from a sea-level launching platform (I wonder whether or not the artist had any notion that just a few years after he would pen this drawing, the U.S. submarine fleet would be sending the majority of the Japanese merchant fleet to the bottom of the Pacific; probably not):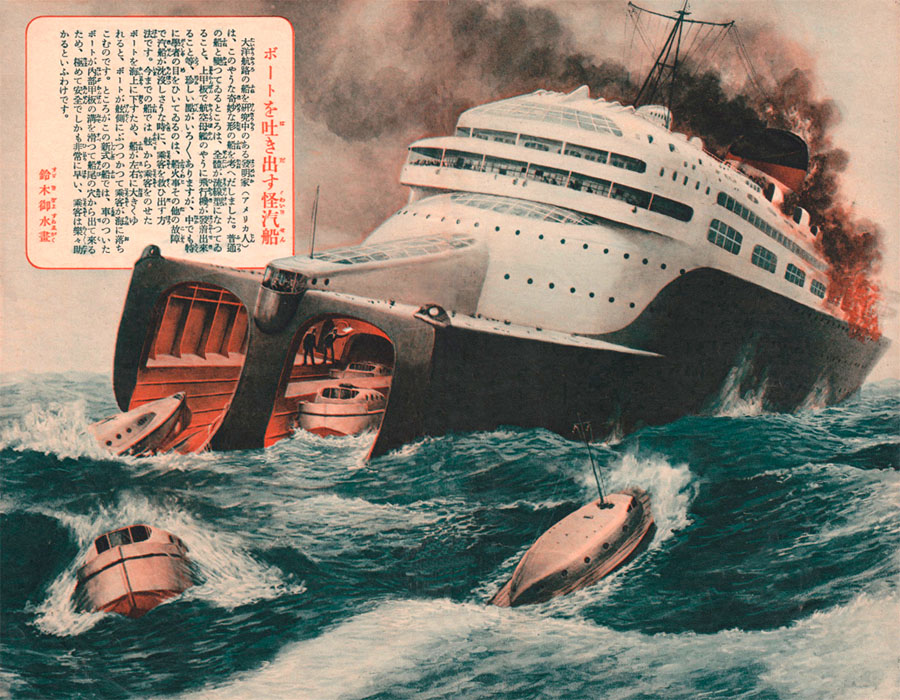 Or an Arctic exploration vehicle which carries its own biplane (and all with US markings, too, a rather remarkable detail from a drawing published in a late 1930s Japanese popular magazine):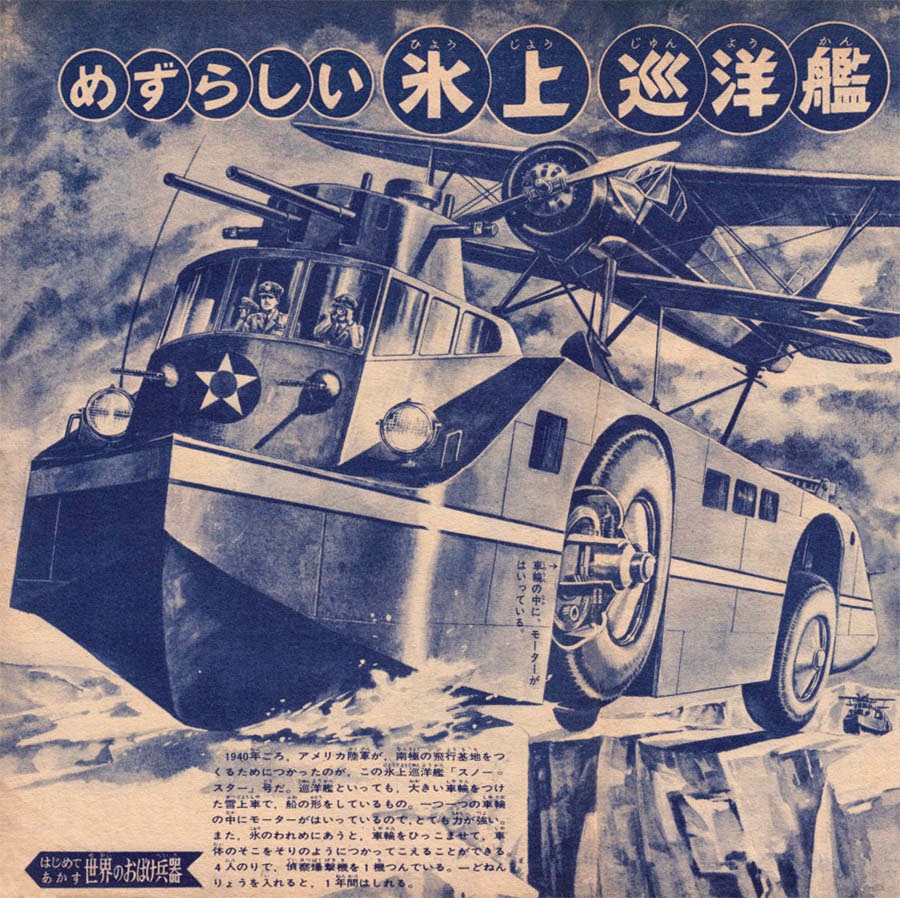 Or this pre-war era car riding on super-sized tires or these boats floating on similarly giant-sized water-propulsion treads: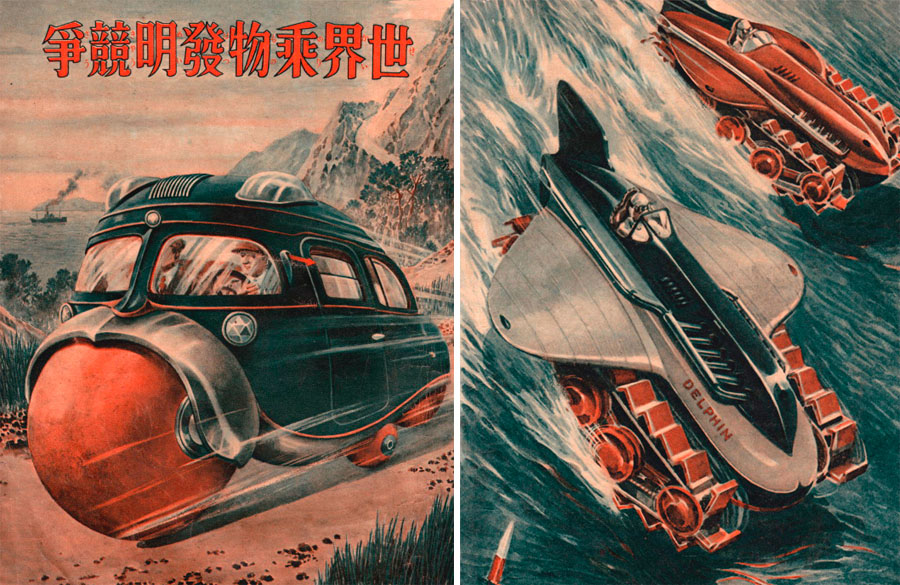 Or these bicycle-like human-powered aircraft from 1965: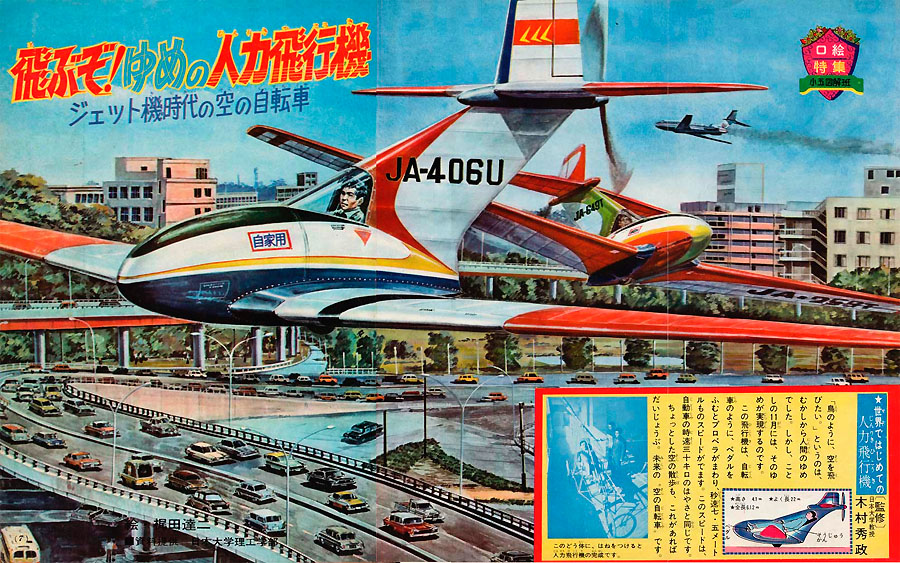 On the other hand, Japan has witnessed magnetic levitation trains, perhaps not quite as outrageous as this one from 1964, though: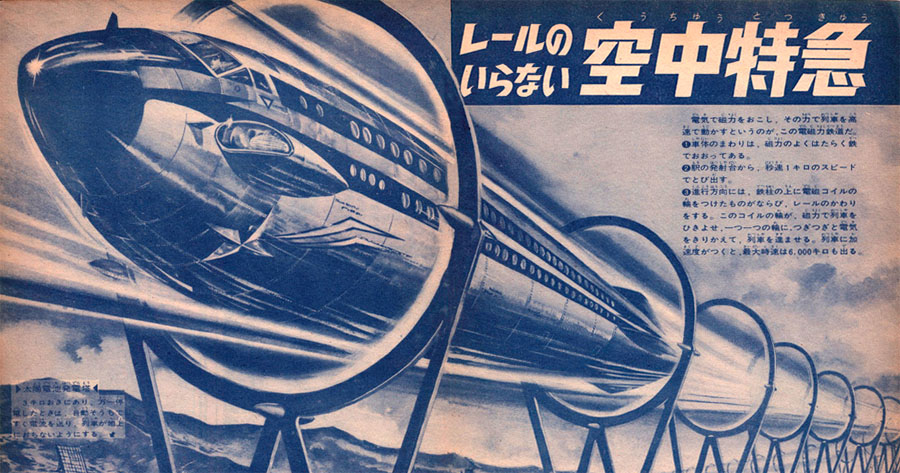 What flittered through my brain as I looked at these images (brought to us by those good folks at the Dark Roasted Blend website, which specializes in daily sharings of retro-futuristic images from around the world) is that the artists who drew them with such optimistic hopes in their souls have either been dead and buried for years or now reside in Japanese nursing homes, and the futuristic vehicles with which they graced the covers and interiors of popular Japanese mechanics magazines either never came to fruition or (like the magnetic levitation train) ended up being super-expensive disappointments.
Oh, well… they're still marvelous to look at, aren't they?