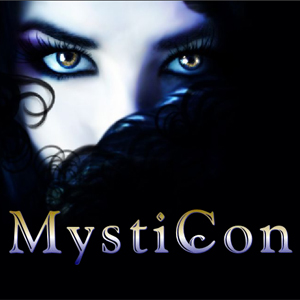 Another month, another Virginia-based science fiction convention (they seem to come hot-and-heavy in the winter months). This weekend, Levi, Asher and I are heading south/south-west to Roanoke. MystiCon has a tradition of strong programming for kids (a big plus in my household), and they also offer the quirky but undoubtedly fascinating (especially to my sons) attraction of a video gaming room featuring working home video game consoles dating from the 1980s to the present, a kind of hands-on museum of home video gaming. We'll be at the convention from late Saturday morning to con closing on Sunday afternoon. Here's some basic information on MystiCon:
Mysticon 2013, February 22-24
Holiday Inn – Tanglewood, 4468 Starkey Road, SW, Roanoke, VA 24018
540-774-4400
Full weekend registration: $45
Friday only: $25
Saturday only: $30
Sunday only: $20
Kids Aged 9-12: $20
Special Guests: Orson Scott Card (author); Peter Davison (media); Larry Elmore (artist)
And here's my schedule for the weekend (for in-between times, check for me and my boys in the dealers' room, the kids' programming, or the con suite, most likely):
Saturday, February 23
World Building – "Can I Cook Or Can't I"
Boardroom 1 (50 min) 3:00-4:00 PM
The creators of some of the most fantastic and out‐of‐this
world settings discuss the creative process.
Peter Prellwitz (M), Andrew Fox, Misty Massey, Charles
Matheny, Jason Oliveira, John Watts
Spooky Ghost and Horror Stories
Rm 533 (50 min) 11:00 PM-Midnight
Readings from several of our paranormal and horror authors.
Andrew Fox, Pamela Kinney, KT Pinto
(I'll read a brief selection from The Runaways of Mount MonstraCity)
Sunday, February 24
Andrew Fox & Misty Massey Guest Signing
Signing Table (50 min) 11:00 AM-Noon
Building Post-Apocalyptic and Steampunk Vehicles
Boardroom 1 (50 min) Noon-1:00 PM
Dreaming of driving your very own Steampunk Time Machine
into the sunset? Or would you prefer racing in the dusty
aftermath of the apocalypse? Join our panelists for a look at
how you too can make your dream car set sail.
Emmy Jackson (M), Brian Brindle, Andrew Fox, David Lee
"Hook, Line and Sinker" How to Begin and End A Story
Ballroom E (50 min) 1:00-2:00 PM
Join our panelists as they discuss how to create a captivating
beginning that lures readers in and an ending that satisfies.
Peter Prellwitz (M), Betty Cross, Glenda Finkelstein, Andrew
Fox, Tera Fulbright, Zachary Steele
I hope to see lots of our friends there (and that we make some new ones, too)!