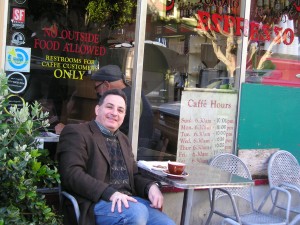 This past week I had the great pleasure of visiting San Francisco for the first time. I think there are few enjoyments more enjoyable than seeing a vibrant city for the first time, with fresh eyes, when every vista is a new one. Given the briefness of my visit and the fact that I was only able to walk through six of the city's nearly 120 distinct neighborhoods, San Francisco should provide me with that "fresh vistas" thrill on many subsequent visits, should I be lucky enough to experience them.
My day job sent me to San Francisco, but I was also fortunate to be able to do some business and make some connections concerning the job of my heart – writing, the job that doesn't pay the bills, but which rewards me through the simple act of doing it.
The afternoon I landed in town, Jacob Weisman and Jill Roberts of Tachyon Publications, publishers of my novel The Good Humor Man, or, Calorie 3501, swung by my hotel in Jacob's little Scion to pick me up and take me back to their office. Turns out their office occupies the first floor of Jacob and Rina Weisman's three-story home in the hilly part of the city a few miles south of the Financial District, where I was staying. I had a chance to meet Rina (who is a big-time book collector and an absolute hoot), Elizabeth Story, and James DeMaiolo. The whole staff clusters together in a shared workspace with beautiful hardwood floors and some of the most impressive bookshelves you'll find anywhere (handcrafted by the same talented gentleman who built all the bookshelves at Borderlands Books, as it turns out).
Being in the Tachyon offices gave me a chance to take a look at their entire publishing output all at once. I have to say I was pretty impressed. Running Tachyon is clearly a labor of love for Jacob, Rina, Jill, and the rest of the staff – what they've accomplished is to put out a very full, rich line of books for people who both love reading science fiction and fantasy and who are intensely interested in the history and heritage of those fields. One of the very first books they published, back in the mid-1990s, when Jacob was running Tachyon primarily to provide limited edition books for specialty SF and fantasy bookstores (a species of store now very much endangered, unfortunately), was a reprint edition of Stanley Weinbaum's 1939 novel The Black Flame, with its complete, original text restored. Their more recent output has ranged from extremely interesting (and fun) retrospective anthologies, such as The Secret History of Science Fiction, The Secret History of Fantasy, The New Weird, and Kafkaesque, to nonfiction about the field or some of the field's most famous practitioners (The Search for Philip K. Dick by Anne R. Dick), to reprint editions of "lost" classics (Lot and Lot's Daughter by Ward Moore), to "quirky" or "difficult" works by major writers (The Word of God by Thomas M. Disch).
It may be a bit self-serving for me to say so, given that they published my most recent book, but I think Tachyon is one of the most interesting publishing concerns going, and they are certainly partial proof that we are living in what may be considered a golden age of small press SF and fantasy publishing. I could certainly envision myself, upon my retirement (whenever that may be… I suspect very far into the future, given the ages of my children), spending a year or two doing little but reading the entirely of Tachyon's output. And having a grand old time doing so.
Jacob and Jill were kind enough to take me on a stroll around their neighborhood, show off some of the hilltop views of their city and bay, and bring me to a neighborhood coffeehouse for a hot chocolate (Rina insisted I try the hot chocolate) and a pastry. We talked a good bit about Jacob's and Jill's careers prior to working at Tachyon (journalism and non-profit fundraising, respectively), the adventures they've had working with some of Tachyon's more, shall we say, opinionated and feisty authors, and what it is like living with a houseful of little boys who can turn Barbie dolls left behind by their older sister victims of monster trucks or dinosaurs or even into light sabers to bonk each other with (this last topic being my contribution). I talked some about my plans to branch out into children's, middle grade, and young adult fiction this year (I recently wrote a children's chapter book, The Velveteen Ebook, an updating of the classic story, and I've started the first book of what I hope will be a series of middle grade novels set in the world of Mount MonstraCity, The Runaways of Mount MonstraCity).
One thing all three of us have in common is a deep appreciation for the skills of Marty Halpern. Marty has worked as a copy editor on a great number of Tachyon books, and he served as my copy editor for The Good Humor Man, or, Calorie 3501. Although my experience with copy editors is somewhat limited, I'll go out on a limb and say I think Marty has to be one of the best in the business. The man sweats the details, and ninety-nine times out of a hundred, he is right. I've reached the point with Marty that I won't argue with his suggestions unless I'm darned sure I know what I'm talking about. My wife, Dara, used to work as a copy editor herself, for a pair of technical magazines published in Washington, DC, and when she perused some of the emails Marty sent me, she nearly swooned. "Oh, he's so good! Oh, he's so good! Oh, I want to meet this guy!" If I didn't know Dara as well as I do, I would've gotten as jealous as Othello.
When we walked out of the coffeehouse, I looked across the street and saw a business I simply had to photograph – the Golden Gun Investigations agency. Isn't that quintessentially San Francisco? Don't you immediately picture a Sam Spade of Chinese heritage working there, smoking Camel after Camel while trading bon-mots with his bored, underpaid, but loyal secretary? I think that place needs to show up in a book published by Tachyon; it's right in their neighborhood, after all (even though it does bring to mind one of the weaker entries in the James Bond franchise). Maybe Jonathan Lethem could write a follow-up to his first novel, Gun, With Occasional Music. Or maybe I could send Jules Duchon on a trip to San Francisco… after all, his friend and one-time protégé Doodlebug doesn't live too far away…
Wednesday night I took a BART subway train from the Financial District to the Mission District to do a "meet and greet" and book signing at Borderlands Books. Borderlands is located on Valencia Street, a long commercial strip which in recent years has become a hub for ethnic restaurants, boutiques, antiques outlets, and specialty stores. Jude Feldman, the bookstore's general manager, welcomed me and ushered me over to the Borderlands Café next door, which opened last year, and provided a much needed cappuccino. Jude is an absolute sweetheart. We discovered a shared love for Robert Mayer's wonderful superhero farce Superfolks, and she introduced me to a number of the store's regular patrons. Unfortunately, she had to boot me and the gang from Tachyon out through the front door before I'd had a chance to peruse more than half their selection of new and used books – it was closing time! But I had a chance to pick up a copy of Michael Bishop's Philip K. Dick is Dead, Alas and a couple of vintage Philip Jose Farmer paperbacks before getting the boot.
One interesting side note about the Borderlands Café – it doesn't feature wi-fi, and that was by design. Jude mentioned to me that, not long after the café opened, she'd surveyed the customers to find out how much they wanted wi-fi to be available. It turned out that many of them, particularly the writers among them, didn't want it at all… they wanted to have a place to hang out where they could escape the Internet and the siren song of social media. I've found an even easier way myself to avoid the Internet when I want to do real work: I do all my writing on a Mitsubishi Amity laptop from 1997, which won't run anything more modern than Windows 98 (and, in fact, all that I run on it is DOS 6.1 and WordPerfect 5.1, that classic word processor which will have to be torn away from my cold, dead, stiff fingers – I feel the same way about WordPerfect 5.1 that Harlan Ellison feels about manual typewriters).
After Borderlands closed for the evening, Jacob, Rina, Jill, and a friend, Jeremiah, took me out to a Thai restaurant a few blocks away. I discovered that Jacob and Rina had hooked up the same way Dara and I had – through JDate.com (although they had met previous to their electronic hook-up, when Jacob had made the error of wearing his bar mitzvah ring on his left ring finger, mistakenly signaling to Rina that he was married; her finding him on JDate cleared that up). Jill revealed that she had met her boyfriend while they'd both been engaging in indoor rock climbing (he had charmed her by swinging like Tarzan on a safety rope). The food was quite good, by the way… I'll prevail upon Jill to remind me of the name of the restaurant, in case anyone needs a recommendation for good Thai food in the Mission District.
One more little note before I bring this post to a close (I'll be writing more in a day or two about my nighttime gambols through Chinatown, North Beach, and the Fishermen's Wharf area). While I was on my trip, I made use of the long in-flight times to work on a short story to submit to Claude Lalumiere's upcoming anthology of tales about books, book collecting, reading, and writing, Bibliotheca Fantastica, scheduled to come out late in 2012. My story centers on a mostly unsuccessful science fiction writer whose earliest claim to fame was being chosen First Runner Up in the 1985 Writers of the Future contest. Writers of the Future is an annual contest and anthology which has given many science fiction and fantasy writers their first rung up on their climb to professional status. It was founded by L. Ron Hubbard in 1983. Writers of the Future has always had a double-edged reputation in the science fiction field; many writers and readers are grateful to the contest for midwifing so many promising careers but are a bit leery of its sponsorship, given the somewhat shady rep of Hubbard's Church of Scientology.
Anyway, I'm walking to my temporary work location a few blocks away from my hotel, and I stroll right past the famous Transamerica Pyramid building, built between 1969 and 1972 (and briefly the tallest building west of the Mississippi River, before being eclipsed by the Aon Center Building in Los Angeles in 1974). While waiting for a traffic light to change, I glanced across the street at a striking triangular-shaped building which looked like a smaller version of the Flatiron Building in the Manhattan (home of Tor Books, by the way). Large letters on its side read, "Transamerica Corporation." Even bigger letters on its front spelled out, "Church of Scientology." Turns out this was the original headquarters of the Transamerica Corporation, prior to the Transamerica Pyramid being built, and it became the headquarters of the San Francisco Church of Scientology in 2003.
Here's what the online Fodor's Guide to San Francisco has to say about the building I photographed:
"The original Transamerica Building is a Beaux Arts flatiron-shaped building covered in terra cotta; it was also the home of Sanwa Bank and Fugazi Bank. Built for the Banco Populare Italiano Operaia Fugazi in 1909, it was originally a two-story building and gained a third floor in 1916. In 1928, Fugazi merged his bank with the Bank of America, which was started by A. P. Giannini, who also created the Transamerica Corporation. The building now houses a Church of Scientology."