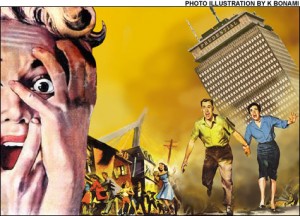 Just like my good friend Elvis said, "There's a whole lotta shakin' goin' on!"
A magnitude 5.9 quake struck Virginia, 36 miles northwest of Richmond and 88 miles southwest of Washington, DC. That puts it about thirty or so miles due west of my family's home in Manassas. My wife reports that the whole house shook, pictures fell off the walls, and something (probably some tchotchke we have on a shelf) fell over and broke.
The quake occurred at 1:51 PM, and I felt it at about 2:03 PM, so it took about twelve minutes to travel the 88 miles to Washington. I was on the sixth floor of my work building in DC, on Southwest 12th Street, near the Potomac River. I was in a meeting in a conference room when the whole building began swaying. It felt like I was on one of the carnival rides at the Prince William County Fair. The lamps overhead rattled, and everybody ducked under the big conference table. The main undulations went on for a little less than a minute, but the building continued to vibrate and shake for at least another minute. Weirdly, I wasn't frightened. I cracked jokes under the table.
We all evacuated down the stairwells. I ducked into my office as fast as I could to grab my personal laptop — my most recent chapter of No Direction Home hadn't been backed up, and I wasn't about to lose my only copy of my newest novel. The evacuation was s-l-o-w-w-w-w moving down those stairs. My office mates and I walked about two blocks north to a designated gathering spot. We heard that the building across the street, an older building probably built in the 1940s, had suffered damage and would remain evacuated until a structural analysis could be done.
First earthquake I've ever experienced. Strangely enough, during the meeting, we were told one of our key participants couldn't participate, because he was busy down in Miami with hurricane preparations due to the approach of Hurricane Irene. And just before the meeting, I had printed out an article on a brand-new method of post-disaster computer-to-computer communication which doesn't rely on cell phone networks or the Internet, facilitated by software called LifeNet which is being developed by researchers at the Georgia Tech College of Computing (hat tip to Instapundit.com).
Hurricanes I'm plenty familiar with. I've been through Andrew, Georges, Jorge, and, biggest and baddest of all, Katrina. But sitting atop six stories flopping around on jello? That's a new one to me. I hope this isn't a foretaste of things to come around here (God forbid)…
Update (4:57 PM): For the past ten minutes, I've been watching a helicopter slowly circle the tip of the Washington Monument. Can't tell if it is a news helicopter or some sort of official aircraft. Staying very close to the Monument. Very ominous…
Update #2: Apparently no damage to the Washington Monument. However, in the alternate universe portrayed in my recent novel Ghostlands, a major earthquake hits New Shining Capitol (that world's Washington, DC) and their version of the Washington Monument does fall down.
Update #3: That tchotchke that broke in the house? Turns out it was my statue of Comeback '68 Concert Elvis. Maybe it was Jerry Lee Lewis striking out at his rival (since I got my quote wrong at the start of this post)…?
Update #4: Well, it looks like there was at least a little damage to the Washington Monument. Engineers will be checking its extent.