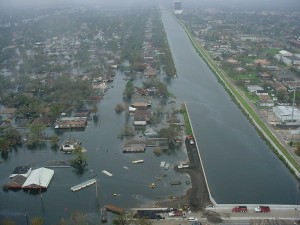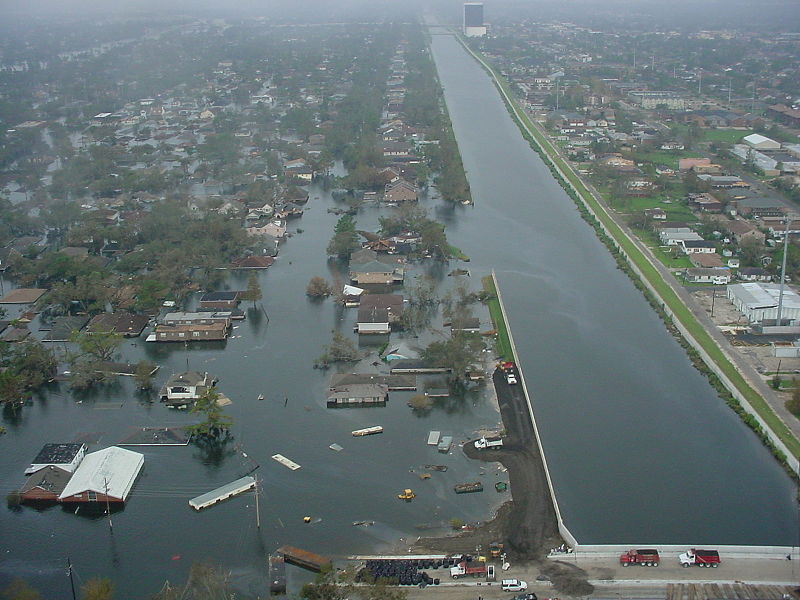 It's Monday, August 29th.
Six years ago, on another Monday, August 29th, Hurricane Katrina, a Category Three storm pushing a Category Five storm surge, slammed into coastal Mississippi. For the first twelve hours after landfall, the city of New Orleans appeared to have avoided the worst. But then the levees designed to hold back Lake Pontchartrain began breaking — the Industrial Canal levee, the 17th Street Canal levee between Metairie and the western parts of New Orleans, the London Avenue Canal levee adjacent to the Gentilly neighborhood, and the Mississippi River-Gulf Outlet levees that had been meant to protect Chalmette and St. Bernard Parish. Within a day, eighty percent of the City of New Orleans had flooded, and nearly all of St. Bernard Parish was underwater. At least 1,836 people died along the Gulf Coast, most from the flooding, making Katrina the deadliest storm in U.S. history since the 1928 Lake Okeechobee Hurricane in South Florida, when approximately 2,500 people were killed.
Thank God Hurricane Irene wasn't worse than it was. The worst effects of Irene appear to be the delayed effects, the post-storm swelling of rivers and streams. Vermont, where Irene swept through as a tropical storm, looks to be suffering the worst flooding. Seeing the photos of homes inundated with rushing water brought back a lot of memories. Those folks in Vermont and New Jersey and the flooded portions of Philadelphia are going to have many tough months ahead of them. Water is a terrible destroyer of homes, far worse than high winds. Winds may leave many beloved possessions behind, still salvageable. Water, and the mold growth it induces, rots one's possessions and turns them to foul, stinking garbage. It's an awful thing to witness.
My family and I were stranded in Albuquerque, New Mexico six years ago. We'd flown out with our two baby sons and four days' worth of clothing and medicines to attend the Bubonicon science fiction convention and to visit my parents. We weren't able to return to our home in New Orleans for almost two months. We had the great fortune that our house was located on the west bank of the Mississippi, in a different flood plain from the majority of New Orleans, and so was spared the flooding that devastated over a hundred thousand homes. But had the storm made landfall just fifteen miles more to the west, it would have been our levees that breached, and our neighborhood would have been inundated with up to nine feet of water.
My hopes go out to all those folks who will be rebuilding after a flood. It is heartbreaking, backbreaking, stinking work. But somehow, it gets done.
I've posted an article I wrote called "Crossing the River Styx," which was about my return to New Orleans six weeks after the levees broke. It originally appeared in Moment Magazine in April, 2006. The congregations I describe in the article have all rebuilt and are once more thriving, six years on.