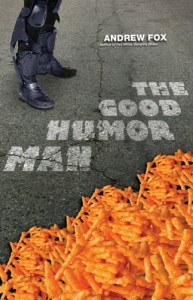 For those of you who have been procrastinating on picking up a copy of my blistering satire of the nanny state, The Good Humor Man, or, Calorie 3501, procrastinate no longer! The Kindle edition of one of Booklist's Top Ten SF and Fantasy Books of 2010 is now available from Amazon for the low, LOW price of only $1.99! That's right — for the price of a medium cup of Starbuck's Coffee, you could be enjoying the adventures of ex-liposuctionist, soon-to-be-ex-Good Humor Man Louis Shmalzberg right now!
But don't delay! Because I have no idea when Amazon will decide to boost the price back up again!
UPDATE: I just found out this price reduction is for today only, expiring at midnight, 12/6/12 Pacific Time. My book was one of nine science fiction books selected for Amazon's Daily Kindle Deal.
UPDATE TO THE UPDATE: Please disregard the Update above! This promotion is still going on. So you procrastinators aren't out of luck yet! Curl up with your Kindle and a Big Gulp soda and giant bag of Cheetoes and wonder how Elvis will manage to save the world sixty-four years after his premature death!