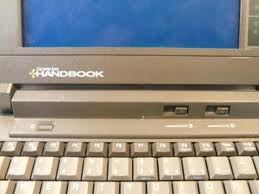 Continuing Vintage Laptop Computer Madness Week here at Fantastical Andrew Fox.com, today we have for your kind perusal installment two of Lust for a Laptop, or the Madness of the Obsessive Collector.
In today's installment, I make my big move back to New Orleans in the fall of 1990. I start writing my first novel on my new Panasonic laptop at Borsodi's Coffeehouse. I inadvertently do performance art with said laptop. Laptop #1 suffers fatal injury during Hurricane Andrew. Laptop #2 is even better, though: a three-pound Gateway HandBook! A relative is killed on New Year's Eve by a falling bullet fired in celebration. I start the New Year Coalition to rid the city of the scourge of holiday gunfire. I use the HandBook to keep myself at least partially organized and sane. The stress of the campaign does severe damage to my first marriage. I try to set things right by pulling on a pair of rented rollerblades…
It's the beginnings of my plunge into the Portable Computing Revolution of the 1990s! It's the Big Easy! It's trauma and tragedy (and low comedy)! Read it!