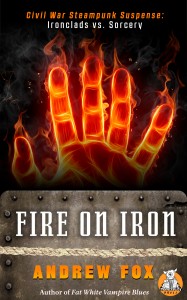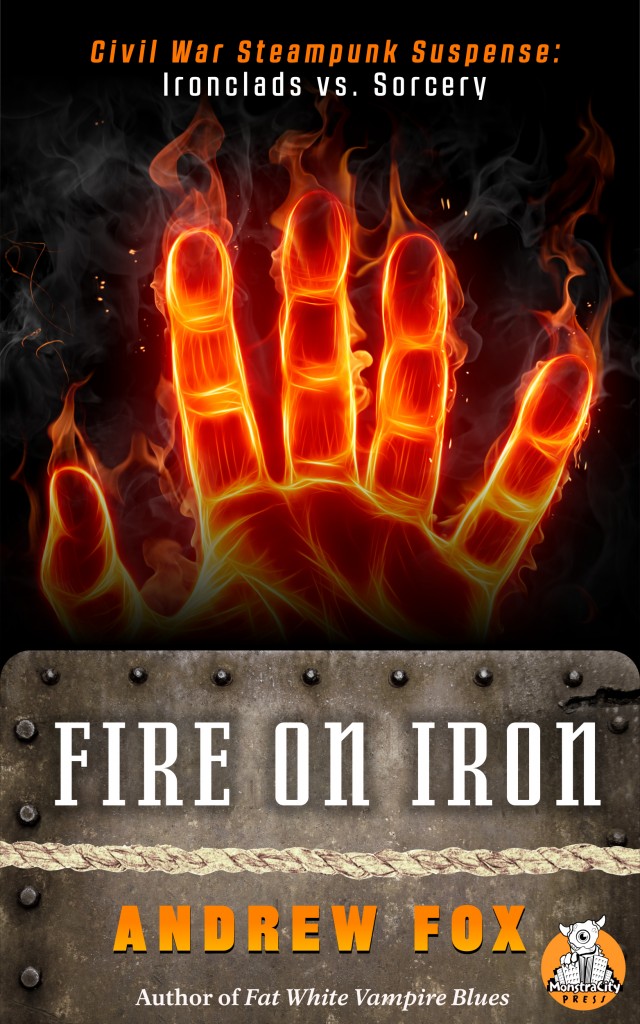 Kudos to my lovely (and hardworking) wife, Dara, on reaching her first milestone with MonstraCity Press: publishing my steampunk supernatural suspense novel, Fire on Iron, to the Kindle platform! Dara opted to go the "extra mile" with publishing to Kindle, not relying on one of the automatic conversion utilities to convert the book from a Word document to the Kindle format. Instead, she spent a couple of months learning HTML code so she could ensure a uniform reading experience for all Kindle customers, no matter their hardware. It was a steep learning curve, but she made it to the first plateau. Now, onwards and upwards to CreateSpace, Nook, and Smashwords!
Fire on Iron is Book One of Midnight's Inferno: the August Micholson Chronicles. This is a brand-new series, a steampunk supernatural suspense adventure set during the American Civil War. Here is the description:
"What price redemption? Is martial honor worth the cost of one's soul?
"Lieutenant Commander August Micholson lost his first ship, the wooden frigate USS Northport, in reckless battle against the rebel ironclad ram CSS Virginia. However, Flag Officer Andrew Foote offers the disgraced young Micholson a chance to redeem himself: he can take the ironclad gunboat USS James B. Eads on an undercover mission to destroy a hidden rebel boat yard, where a fleet of powerful ironclads is being constructed which will allow the Confederate Navy to dominate the Mississippi.
"But dangers far more sinister than rebel ironclads await Micholson and his crew. On the dark waters of the Yazoo River, deep within rebel territory, they become entangled in a plot devised by a slave and his master to summon African fire spirits to annihilate the Federal armies. Micholson must battle devils both internal and external to save the lives of his crew, sink the Confederate fleet, and foil the arcane conspiracy. Ultimately, Micholson is faced with a terrible choice — he can risk the lives of every inhabitant of America, both Union and Confederate, or destroy himself by merging with a demon and forever melding his own soul with that of his greatest enemy."
I have many intriguing twists and turns in store for my beleaguered protagonist, August Micholson – he begins his adventures as a Lieutenant Commander in the Union Navy, assigned to an extremely hazardous undercover mission behind Confederate lines. By the end of the first book, he is on his way to becoming a steampunk amalgam of Dr. Strange and the Human Torch, with the added hang-up of having to deal with sharing his skull with two very unwelcome "guests."
Dara and I plan to make Fire on Iron available in all the popular e-formats within a few weeks, as well as available as a trade paperback. So please watch this space for more announcements.
I'm already at work on Book Two of Midnight's Inferno: the August Micholson Chronicles, which will be entitled Hellfire and Damnation. Look for that one in the summer of 2014!