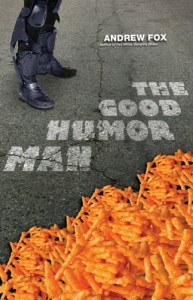 In this witty tribute to Ray Bradbury's Fahrenheit 451 set in 2041 government-sanctioned vigilantes – the Good Humor Men – ruthlessly patrol the streets, immolating all fattening food products as illegal contraband. A pound of real chocolate is worth more on the black market than a kilo of cocaine. Evil nutraceutical company MannaSantos controls the food market with genetically modified products like "Leanie Lean" meats. But the craze for svelte healthfulness has reached a critical turning point, as a mysterious wasting plague threatens to starve all of humanity.
A lone ex-plastic surgeon and founding Good Humor Man, whose father performed a secret liposuction surgery on Elvis Presley, holds the key to humanity's future. In a mad dash to retrieve his family heirloom – the mortal remains of the King's belly fat – Dr. Louis Shmalzberg becomes entangled with a civil servant of questionable motives, an acquisitive assassin from a wealthy Caliphate, a power-mad preacher evangelizing anorexia, a beautiful young woman addicted to liposuction, and a homicidal clone from a MannaSantos experiment gone terribly wrong.
Can Elvis save the world sixty-four years after his death?
(from the Tachyon Publications website description)
_________________________________________________________________________________
Praise for The Good Humor Man
"The Good Humor Man is hilarious, trenchant, important, and the story of Dr. Louis Schmalzberg's search for the jar of liposuctioned Elvis fat that may save America is impossible to put down. Andrew Fox writes like a combination of Kurt Vonnegut, Dave Barry and Molly Ivins…"
-Lucius Shepard
"A Fahrenheit 451 for the post-millennium, told with Fox's magnificent evocation of place and twisted humor. Wonderful!"
-Kage Baker
"Fox unveils more all-too-plausible bits of the future and has us laughing to keep from crying."
–Booklist
Booklist features The Good Humor Man on their listing of 10 Best SF and Fantasy Novels of 2010
"Andrew Fox has provided readers with some inspired riffs on the Vampire Lestat and Ignatius Reilly. . . Now he extends his range a bit with a hilarious new novel, The Good Humor Man, Or Calorie 3501." Read more
-Susan Larson, The Times-Picayune
"The Good Humor Man is an intensely interesting, wild ride through a wickedly-accurate depiction of the American psyche…a witty, incisive satire all on its own. By turns heartbreaking and mesmerizingly grotesque, The Good Humor Man is well worth the read." Read more
-Chris Braak, io9.com
"…keeps the pages turning…. I'd suggest playing 'Heartbreak Hotel' and grabbing a bag of chips for ambiance."
–Electric City
"Who but Andrew Fox, author of Fat White Vampire Blues, could combine Elvis Presley, anti-junk food fascism, clones, a world-threatening virus, and weird sex involving liposuction into one book?" Read more
–Edge San Francisco
"The Good Humor Man is an amazing novel that tackles serious issues like obesity, nutrition, genetically engineered food, the agricultural business, body image and many, many other important topics in a very entertaining, darkly humorous way." Read more
-Fatally-Yours.com
___________________________________________________________________________________
Here's a link to a video of Rose Fox's September, 2009 interview with Chris Genoa and with me (about The Good Humor Man) for GVTV (Genreville TV).
___________________________________________________________________________________
Purchase a signed copy from Octavia Books