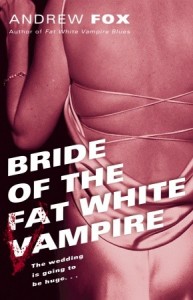 After morphing into 187 very large white rats in the name of self-preservation, Jules Duchon is back to his portly self, a member of that secret class of New Orleans citizens known as the undead. Though he would like nothing better than to spend his nights raising hell and biting flesh in his beloved French Quarter, duty calls when an exclusive club of blue blood vampires demands that the 450-pound cabbie find out who is attacking its young and beautiful members. Adding insult to injury, he has to enlist the help of a former foe: a black vampire named Preston.
What's a vampire to do? Without the love of a woman to ease his pain, Jules isn't convinced that his undead life is worth living. He doesn't desire Doodlebug (she may be a woman now but Jules knew her back when she was just a boy) any more than he longs for Daphne, a rat catcher who nourishes a crush the size of Jules. No, only Maureen will do. Once a beautiful stripper with nothing but curve after curve to her bodacious body, now she is mere dust in a jar. But Jules will move heaven and earth to get her back . . . even if it means pulling her back from the dead.
(from the back cover blurb)
_______________________________________________________________________________
Who is kidnapping and dismembering the fetching young vampiresses of the High Krewe of Vlad Tepes? Who is draining the blood of black preachers and dumping their bodies in the French Quarter and City Park lagoons? And why is any of this Jules Duchon's problem?
Because the High Krewe and the black vampires who live beneath the Canal Street casino say it is!
Thanks to the forced intercession of his friend and protege, Doodlebug Richelieu, Jules is back, whole but less-than-hardy, on the streets of New Orleans. But he sure isn't happy about it. Having discovered a way to enjoy the delights of New Orleans and avoid a stake through the heart at the close of Fat White Vampire Blues, even though it meant the loss of much of his personality and humanity, Jules was enjoying his unique nirvana. But the complicated politics and intrigues of New Orleans' vampire world won't let him rest. Now, forced into the unfamiliar role of private detective, stripped of his vampiric powers by a most unfortunate accident (but still possessing all his vampiric vulnerabilities), pining for Maureen, his lost love, Jules faces his most harrowing test yet. Compelled to work for the hated aristocratic vampires of the High Krewe, shanghaied into an uneasy partnership with black vampire Preston, who killed Jules's ex-boss, the nearly 500-pound vampire is forced to rely upon his wits to survive.
But will a century's worth of Big Easy street smarts be enough? In quick succession, Jules finds himself contending with the High Krewe's scheming youngsters, a reclusive and nefarious Cajun-Goth shock-rock musician, the dirty politics of neighborhood redevelopment, a vandalized Cadillac convertible, the possible return of one of his worst enemies, several bad whacks to the head, and the desecration of his mother's grave. And if he somehow manages to survive all this. . . he just may find himself a bride to marry.
_______________________________________________________________________________
Wanna read a Jules Duchon short story?
_________________________________________________________________________________
Praise for Bride of the Fat White Vampire:
"This tangy go-round for Fox's quarter-ton vampire gives readers a run for their money at telling the bloodsuckers from the leaches. . . . (Jules) Duchon comes into contact with a wide array of savory and unsavory characters– and finely described slices of New Orleans– allowing Fox to throw jabs and sling darts. Says Doodlebug of his new home: 'California is different from the rest of the country. A combination of widespread Wiccanism and Hollywood liberalism means that blood-drinking is not as stigmatized as it would be here.' Sass and smarts are also in his bag of tricks, whether he's poking fun at Internet searches or driving home a little social commentary on racism and greed. The plot is intricate enough to be more mystery than horror tale, with a complicated land scam that turns into something of a red herring, while grave tampering, lost loves, new loves, rotten apples, and morality plays are all kept aloft in sensible procession. Then the story accelerates into a mad whirligig . . . Centrifugal forces could easily take the story down to crash and burn, but Fox commands the pyrotechnics and pilots to a sweet landing. A sprawling comedy of horrors, the possibility of its spilling into a third manifestation certainly welcome." Read more
– Kirkus Reviews
"A wonderful cast of extraordinary but believable characters–human and vampire–populate this witty novel. The story's leisurely pace reflects the laid-back ways of the Big Easy." Read more
–Library Journal
"The first book in the series established Fox's deft knack for combining genres, and Bride of the Fat White Vampire confirms it. This time around, Fox concocts a convoluted mystery in the hardboiled tradition of Raymond Chandler, explicitly perverts the Anne Rice brand of vampire fiction, and spices the plot with elements from James Whale's film Bride of Frankenstein. . ." Read more
-Claude Lalumiere, The Montreal Gazette
"Andrew Fox has succeeded in overcoming a sophomore jinx by writing a successful second novel. The supporting characters in Bride of the Fat White Vampire are fleshed out more than in the first novel and are given their own depth. Fox also expands upon the already rich vampire mythos he created in Fat White Vampire Blues. On top of all that, Fox has written a true mystery that holds surprises for the reader all the way to the end." Read more
Brian Houle, About.com
"God, I love the sci-fi-fantasy-horror-magicrealism-pagan-mystic genres, cause every once in a while you come across a book like Bride of the Fat White Vampire. . . Funny, clever, and highly entertaining." Read more
Joe Murphy, The Dragon Page
"Fox's novel is a delightful gumshoe gumbo of various types of genre fiction: the comic vampire novel, the detective novel, the local color novel set in the Big Easy. Fans of any of these sorts of books will find Bride of the Fat White Vampire hard to put down." Read more
June Pulliam, Necrofile
___________________________________________________________________________________
Purchase a signed copy from Octavia Books
Purchase a signed copy from Boutique du Vampyre