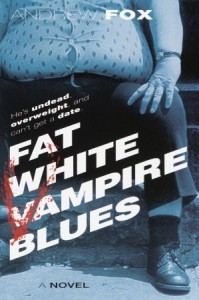 I've always loved vampire stories. My earliest exposure to vampires was through "Creature Features," probably either House of Dracula or House of Frankenstein, both with John Carradine playing Dracula (my local nonaffiliate TV station showed these movies much more often than the original Dracula, which they saved for special Halloween screenings). When I was seven or so, my father treated me to a drive-in double feature of The Return of Count Yorga and Scream, Blacula, Scream! All the fangs and blood blew my young mind; either that, or all the polyester leisure suits and gold medallions. I'd beg my parents to buy me any comic book that had a vampire on the cover — whether it was Spider-Man battling Morbius or Jimmy Olsen being menaced by a Hollywood bloodsucker. My favorite, though, was Marv Wolfman's and Gene Colan's Tomb of Dracula, still one of the best portrayals of the Count in any medium, in my humble opinion.
For some reason, though, I was never interested in inventing any vampires of my own. I started writing stories young, in fourth grade, and they featured plenty of monsters. But never vampires. When vampires turned red-hot in the late 1980s, thanks mainly to the success of Anne Rice's novels, I didn't jump onboard, either as a reader or a writer. The new crop of vampires — romantic, misunderstood, aristocratic eternals, or gorgeous, savage teens who looked like "heroin chic" jeans models — failed to capture my fancy. I couldn't relate. Maybe I just preferred my vampires the old-fashioned way: dour, dusty, with bad foreign accents and worse attitudes. Lon Chaney, Jr.'s Count Alucard probably most closely approximated my ideal. . . not too handsome, not too graceful, always looking faintly embarrassed as he skulked around.
Ideas for books often come from unexpected directions. By the time 1998 rolled around, I'd written two novels, neither of which was filling my mailbox with enticing offers from agents or editors. I was recently divorced and was recovering from a badly broken ankle. Thanks to this unpleasant confluence of events, I'd set aside my writing for almost a year, but I was starting to develop the itch again, wondering what my next project would be. My new girlfriend was a big SF and horror fan, and she loved gossiping with her eccentric landlady. Turned out this landlady went to the same Uptown New Orleans beauty parlor as a certain well-known horror author, and soon my girlfriend was filling my ear with stories of how said author had ballooned to an impressive size.
The image stuck with me. New Orleans, of course, is famous for its food, one of the world's most calorie-laden cuisines, heavy on the cream sauces, sausages, and fried crustaceans. New Orleans regularly contests for the title of America's Fattest City, most often with Philadelphia, whose Philly cheese steaks can't hold a candle to our andouille gumbo or fried trout almondine. I work for the Louisiana Office of Public Health; our three biggest public health concerns are obesity, diabetes, and hypertension, all at least partially accounted for by our rich diet. I reasoned that, if vampires actually "lived" in New Orleans and subsisted on the blood of New Orleanians, they'd be sucking down a stew of cholesterol and fatty lipids with every meal. After a century or so, a New Orleans vampire would look a heck of a lot more like John Goodman than Tom Cruise.
One of my favorite New Orleans novels, and one of the all-time great comic novels, is John Kennedy Toole's A Confederacy of Dunces, which features gargantuan Ignatius Reilly getting into a series of misadventures in 1960s New Orleans while fighting a losing battle against the twentieth century, progress, and all forms of "aesthetic abomination." Confederacy got added to my recipe. I also stirred in a nice dollop of Lon Chaney, Jr.'s vampire (that hangdog expression, those sagging jowls, the attempts at being horrifying that came across as more pitiable and endearing than frightening). My vampire character quickly started taking shape — Jules (named for a favorite overweight coworker) would be a member of New Orleans' shrinking white working class, left behind during the rush to the suburbs, chained to his old, decaying neighborhood by nostalgia and a genuine love for the central city. Over the long decades, his weight had gradually crept up, until he reached the point where he was too big and slow to chase down victims anymore. Once he hit four hundred pounds, he took up driving a cab, because trapping his victims in the back seat was the only way he could capture a meal. Finally, various pressures, including the disdain of his ex-lover and blood mother Maureen and being poked fun at by skinny young vampire wannabes in the French Quarter, force Jules to consider the four-letter word he hates the most: D-I-E-T.
I originally wrote Fat White Vampire Blues as a longish short story, but my writing workshop group loved Jules and the concept so much that I started thinking about expanding my story into a novel. This bigger project allowed me to portray other aspects of New Orleans culture. I decided to satirize the city's racial and class divisions by bringing in a younger, sharper black vampire antagonist for Jules (allowing me to toss in loving references to the Blacula films), plus a group of aristocratic white vampires who live in a walled compound near the parish line and who've figured out how to get beyond the "hunting and gathering" stage of vampiric existence (the snooty, John Carradine-type vampires). Of course, Jules had to be a big music fan. . . New Orleans music has always been the one force that brings all the city's races, classes, and ethnic groups together (visit any Jazz Fest to see what I'm talking about).
Although several of the book's characters diss Jules cruelly regarding his weight, Jules himself regards his size with rueful equanimity; if people would just stop pestering him about it, he'd be happy enough to remain just as he is. Which probably describes the mindset of many of us down here in N'Awlins — given our culture and love of food, we won't be getting any skinnier anytime soon, so we might as well learn to love ourselves as we are (maybe adding a little more exercise to the mix, so we can enjoy all that food a little while longer). By the end of the book, Jules discovers that, for a vampire, loads of excess mass, rather than being a handicap, are actually a boon. A fitting lesson to learn in New Orleans, whose unofficial motto is "Laissez les bon temps rouler" — "Let the good times roll!"
(reprinted from the July, 2003 Del Rey Internet Newsletter)