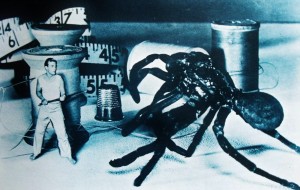 Author and screenwriter Richard Matheson passed away at the age of 87 on June 23, 2013. Locus Online and Variety are two of hundreds of publications which have or soon will publish obituaries and tributes to one of the titans of twentieth century horror and science fiction.
I would struggle to add anything new to the commentary regarding Matheson's literary and film output and its significance to the broad American culture. But what astonishes me personally is the realization of what a huge impact Richard Matheson had on my own childhood. The man was simply all over the map of early 1970s popular culture. When I was a kid in my most formative proto-geek years (the years between the ages of 6 and 11, which would be from 1971 or so to 1976 or so), hardly a month went by when I wasn't exposed to another product of Matheson's prolific pen. Exposed to it and imprinted by it. He was every bit as ubiquitous throughout the media of the early Seventies as his disciple Stephen King was in the Eighties.
Let's take a quick trip down memory lane here…
I'm almost certain my first dose of Richard Matheson must've been repeated viewings on TV (either Saturday afternoon movies or Saturday night Creature Features) of The Incredible Shrinking Man. The 1957 film, whose Matheson-penned script was based on the author's 1956 novel, The Shrinking Man, is probably best remembered for its iconic images of its tiny protagonist battling a spider with a pin or inhabiting a doll house. But when I was a kid, the elements which burrowed their way most deeply into my consciousness were the film's quieter, more subtle moments. The opening scene, for example, when the hero, aboard his boat, is enveloped by a cloud of radioactive particles or toxic pollutants, is supremely creepy. Subtly horrifying are the first indications that the hero is shrinking… his clothes no longer fitting, his wife noticing that she is now taller than her husband, and, the real gut-punch, when his wedding ring falls off his shrunken finger. The film ends in a way vastly different from any other movie I had ever seen to that point (and different from most films I've seen since). The hero neither dies nor triumphs. He is left in a state of ambiguous hope, free at last from the cellar which had imprisoned him and in which he had nearly died several times, but now faced with the potentially greater hazards, all of them unknown, to be found in his own, continent-sized backyard. That ending gave me shivers of wonderment, and it still manages to do so.
Much of Matheson's earlier work in TV and film played in frequent syndication on the limited television channels of my youth. At least a couple of times a year, my local CBS affiliate would schedule an "Edgar Allan Poe Week" for its afternoon movies slots, meaning I could enjoy Roger Corman thrillers such as House of User (1960), The Pit and the Pendulum (1961), Tales of Terror (1962), and The Raven (1963) with my mother after I came home from school, before I had to start my homework. All featured screenplays by Richard Matheson. The last picture on this list, The Raven, was actually a comedy about the magical escapades of rival sorcerers, played by Vincent Price, Boris Karloff, and Peter Lorre; its connection to Poe's poem "The Raven" was extremely tenuous. Still, it remains a fun and lively piece of work (unlike Matheson's follow-up horror comedy, 1963's The Comedy of Terrors, whose leaden, utterly unfunny script wastes the talents of Boris Karloff, Peter Lorre, Basil Rathbone, and Vincent Price; I saw it recently on Netflix and think the script is the worst Matheson ever put to paper, by far; he wanted to write a sequel, but The Comedy of Terrors was a relative flop, so the sequel never saw the light of day, to the benefit, I'm sure, of Matheson's reputation).
Then, of course, there was The Twilight Zone, whose syndicated reruns formed another staple of my youthful media diet. Matheson's involvement with the series began in its first season, when Rod Serling adapted two of Matheson's short stories into episodes: "And When the Sky was Opened" and "Third from the Sun." Matheson wrote an additional fourteen Twilight Zone scripts himself, including some of the series' most famous and well-regarded episodes, "The Invaders," "Steel," and William Shatner's star turn in "Nightmare at 20,000 Feet." One of my favorites of Matheson's scripts was for another episode starring William Shatner, the low-key but paranoia-wracked "Nick of Time," set entirely in the booth of a diner. Other Matheson scripts included "The Last Flight," "A World of Difference," "A World of His Own," "Once Upon a Time," "Little Girl Lost," "Young Man's Fancy," "Mute," "Death Ship," "Night Call," and "Spur of the Moment."
That was the old stuff. But the first half of the Seventies was crammed full of Richard Matheson projects, most of them on television, where I could catch their original broadcasts and the reruns (which I would assiduously scan my weekly issue of TV Guide looking for; my mother had a subscription, as I suspect most mothers of the time did).
1971 brought us Duel, an ABC "Movie of the Week" that was Steven Spielberg's first directorial triumph. Matheson wrote the script based on his 1971 short story of the same name, published in Playboy. What a suspenser! Who can forget the horrific vehicular bullying suffered by poor Everyman Dennis Weaver at the hands/eighteen wheels of an anonymously malevolent truck driver, whose face we never see? What an impact that movie had on me as a kid!
1971 was also the year in which the second film adaptation of Matheson's classic vampire novel, I Am Legend (1954), The Omega Man, hit the theaters. This film I didn't see until a few years later, when it showed up on TV. But it was the first film that genuinely made my skin crawl; even Scream, Blacula, Scream! and The Return of Count Yorga hadn't managed that. Those albino plague victims (even though they weren't portrayed as vampires, unlike in the source novel), really freaked me out. I'd watched The Omega Man at least a dozen times before I ever saw the first film adaptation of I Am Legend, 1964's low-budget The Last Man on Earth, starring Vincent Price and released by American International Pictures. Matheson, who did not have a hand in the script for The Omega Man, did work on the script for The Last Man on Earth, but he ended up very dissatisfied with the result, the product of four different writers; in order to retain his residuals, he allowed himself to be credited as "Logan Swanson."
Undoubtedly, the best exposure to I Am Legend is to read the original novel itself. It is a short book, easily finished in the space of a single evening. One of my top recommendations for anyone who wishes to scare themselves silly is to read I Am Legend alone, at night, in a mostly darkened house. It was the first application of the techniques of science fiction to the subject of vampirism, and, as such, is a lodestone for all the vampire fiction that followed. Not only that, but the book grants Matheson a kind of grandfatherly paternity for the whole subgenre of zombie fiction, TV, and films. George Romero has said that the slow-moving, shuffling vampire hordes of The Last Man on Earth were a primary inspiration for his flesh-eating zombies in Night of the Living Dead. So, arguably, had there been no I Am Legend, there would be no The Walking Dead on AMC today.
Night Gallery was Rod Serling's follow-on to his cult classic series The Twilight Zone (although Serling ended up with far less creative control over this series than he had with his seminal earlier one). Despite the myriad ways in which Night Gallery can be said to fall short of The Twilight Zone, the series featured a number of memorable episodes based on classic stories by writers such as H. P. Lovecraft and Fritz Leiber. Serling also called upon his old collaborator Richard Matheson to work with him again; Matheson provided scripts for the 1971 episode "Big Surprise," based on his 1959 short story, and for the 1972 episode "The Funeral," based on his 1955 short story. I have fond memories of Night Gallery (and I really should take another look at the best episodes on Netflix). Also in 1972, Matheson provided the script for the one-hour pilot episode of Ghost Story, NBC's effort to compete with Night Gallery. Despite being hosted by a creepy Sebastian Cabot (and yes, Sebastian Cabot could be very creepy when he wished to be; see the end of The Twilight Zone episode, "A Nice Place to Visit," for what I mean), Ghost Story didn't do as well in the ratings as Night Gallery, and a mid-season renaming of the series to Circle of Fear failed to save it from cancelation. But while it was on the air, I watched it every week.
In early 1972 I was hypnotized by one of Matheson's best projects ever, his script for the ABC made-for-TV movie The Night Stalker. This film was, of course, the source material for the well-loved (and much syndicated) TV series Kolchak: the Night Stalker, which ran on ABC during the 1974-75 season and which starred Darren McGavin, reprising his role as reporter Carl Kolchak. Matheson didn't write any of the scripts for the series (which remains a great favorite of mine), but his script for the original movie won an Edgar Award from the Mystery Writers of America. A year after the first movie's broadcast in January, 1972, ABC aired a sequel, The Night Strangler, which also featured a script by Richard Matheson. Although not as well remembered as the original film (with its savage vampire), the sequel has its own merits, particularly its eerie setting in the Seattle Underground (which impressed me enormously as a kid; I finally got to see the place myself as a 39 year-old, on my second honeymoon).
How does an author help to ensure that a film adaptation of one of his books or stories is up to snuff? Adapt it himself! Richard Matheson followed this advice as frequently as possible. Not always with favorable results — see my notes above on his reaction to the script for The Last Man on Earth. However, he enjoyed a much better experience (and made a far superior film) with The Legend of Hell House, his 1973 script based on his 1971 novel Hell House. This is another film from the early Seventies that I caught on TV a few years later. I consider it one of the best haunted house films ever made, ranking up there with the original adaptation of Shirley Jackson's The Haunting of Hill House, The Haunting. Roddy McDowell (fresh from his star turns in the Planet of the Apes series, including Battle for the Planet of the Apes, released the same month as The Legend of Hell House) is splendid as a paranormal investigator, and the film's ghostly villain, Emeric Belascoe, is one of the most memorable menaces in the genre. This movie had almost as big an impact on me as a kid as The Omega Man.
Rounding out his Murderers Row of early Seventies projects was the classic Trilogy of Terror, a 1975 ABC made-for-TV movie which was based on three of Matheson's short stories. Everybody who has seen it remembers the segment called "Amelia," based on the short story, "Prey" (this was the only one of the three segments for which Matheson wrote the script; the other two were adapted by William F. Nolan from Matheson's stories). Karen Black stars in all three segments; in "Amelia," she plays a woman who lives alone and unwisely brings a cursed Zuni fetish doll into her apartment as a decoration. This is the movie that type-cast Karen Black and relegated the rest of her career to roles in B-movie horror pictures; the former A-list actress (nominated for an Academy Award for her supporting role in the 1970 film Five Easy Pieces) later said in an interview, "I think this little movie took my life and put it on a path that it didn't even belong in." But many fans of the horror genre would agree that Karen Black's loss was our gain; few actresses are more closely associated with the horror genre of the Seventies, and much of that association is due to the indelible impression she made in Trilogy of Terror.
Wow! What a list of memory-makers from my childhood! And all from the pen/typewriter of one man, Richard Matheson. Mr. Matheson, thank you for the unforgettable images, in prose and on film, you have left for those of us "Born of Man and Woman" on this planet "Third from the Sun;" your "Disappearing Act" has left behind A Stir of Echoes which will never fade. May you find peaceful repose somewhere on The Shores of Space.