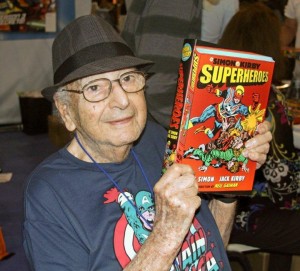 One of the last remaining creators of comic books' Golden Age left us this past Wednesday. Joe Simon (born Hymie Simon) died at the age of 98 on December 14, 2011. Best known as the co-creator, with his partner Jack Kirby, of Captain America – Joe drew the very first sketch of the character – his career in comics contained many "firsts" and milestones that stretched throughout the Golden and Silver Ages of Comics.
Born in 1913 in Rochester, New York (his father, Harry Simon, was an immigrant tailor from England), Joe's career in comics began in the late 1930s when he went to work as an artist for Funnies, Inc., one of the earliest packagers of comic books. Shortly thereafter, Martin Goodman, publisher of Timely Comics, asked Joe to create a new superhero similar to Timely's first hit character, the Human Torch; Joe's first super-heroic creation was the Fiery Mask. Joe then became the first official editor of Timely Comics. Not long afterward, he met Jack Kirby, and the two formed an artistic partnership that would last until 1955, when political attacks on the comic book industry led Joe to turn his efforts to commercial art.
Joe's and Jack's most significant shared creation was Captain America, whom they portrayed punching Adolf Hitler in the kisser on the cover of his very first issue, released in December, 1940, a year prior to America's entry into World War Two. Captain America was far from the only patriotic hero the artistic duo created, however. In 1942, they launched the Boy Commandos for National (later DC) Comics, which became the company's third best-selling title, after Superman and Batman. They paired that success with another hit, the Newsboy Legion, a home front kid gang action team led by an adult costumed superhero named the Guardian, who wielded a bulletproof shield much like Captain America's. During the Korean War, Simon and Kirby co-created the Fighting American to pick up where Captain America had (temporarily) left off.
In the late forties, Joe and Jack created the subgenre of romance comics with their Young Romance, which inspired dozens of imitators, and were pioneers in the subgenre of horror comics with Black Magic. In the late fifties, the pair briefly reunited to create a line of superhero comics for Archie Comics, and Joe created the character the Fly, which some comics historians consider a precursor to Spider-Man. In 1960, Joe created a competitor to Mad Magazine, called Sick, which he drew and wrote material for and edited through the early 1970s. In 1966, Joe and Jack briefly reteamed again to create a line of superheroes for Harvey Comics. His final work in the comics realm came during the Silver Age, when he and Jack revamped for DC a Gardner Fox character they had first revamped in the 1940s, the Sandman. On his own, Joe created two unusual properties for DC – Brother Power, the Geek, about a living mannequin who joins the hippy movement, and Prez, about a teenaged president of the United States.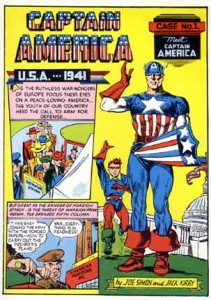 Joe's name returned to the headlines of the comic book news media in 1999 when, following a legal ruling that the heirs of Jerry Siegel were entitled to a share of the United States copyright of the character Superman, Joe sued Marvel Comics, the successor to Timely Comics, for copyright to Captain America. The two parties settled out of court in 2003. In recent years, a wealth of material about Joe's career has been made available. His memoir of his career in the comics, The Comic Book Makers, was reissued, joined by a companion volume, Joe Simon: My Life in Comics: the Illustrated Autobiography of Joe Simon. Several coffee table books of his art have been released, including the very handsome The Best of Simon and Kirby, compiled by my friend Steve Saffel.
In my several decades of following the comic book press, both fan and professional, I have never come across a single negative word said about Joe Simon. The comics press (and associated fan discussion) is often catty and backbiting; virtually no major figures in the industry have avoided being savaged from time to time by rumor, innuendo, or personal attacks. That Joe Simon is such a figure speaks volumes about him.
If there is one figure in American arts and letters who most strongly reminds me of Joe Simon, it is composer and lyricist Irving Berlin (born Israel Isidore Baline). Both lived very long lives; Berlin died in 1989 at the age of 101. Both came from Jewish immigrant families (Berlin's from Belarus, then part of the Russian Empire) and spent the bulk of their working lives in New York City. Both achieved their most enduring successes during the World War Two era – Joe Simon with Captain America, the Newsboy Legion, and the Young Commandoes; Irving Berlin with his most beloved and ubiquitous songs, "God Bless America" (1938), "White Christmas" (1942), and "This is the Army" (1943). Both sought to create popular art for the average American. I think Joe would have enthusiastically nodded his head at this quote from Berlin: "My ambition is to reach the heart of the average American, not the highbrow nor the lowbrow but that vast intermediate crew which is the real soul of the country."
Both men felt in their kiskas what it meant to be an American. Although it would not be fashionable for them to do so now, not in this age of multiculturalism and widespread disdain among the artistic classes for the notion of a shared national identity, both men chose not to emphasize the particularities of their own ethnic and religious backgrounds in creating their greatest works. Rather, each tried to reflect what they saw as the finest characteristics of that broad group they considered "average Americans." Irving Berlin often gave credit to his mother for inspiring the lyrics of his most famous song. During his growing up years on New York City's Lower East Side, his mother would frequently say "God bless America," her way of expressing gratitude to a country which had taken in her and her family and provided them refuge from the pograms which had destroyed their home in Russia. Joe Simon would approve. In September, 2001, shortly after the attacks on the Twin Towers and the Pentagon, he recreated the iconic cover of Captain America Comics No. 1, substituting Osama bin Laden for Hitler as Captain America's punching bag. His quote? "I did it out of anger. Adolf got his. Osama will too."
Joe Simon lived long enough to see bin Laden get his. He also lived long enough to enjoy, at last, a successful and reverent big-screen adaptation of his most famous character, Captain America: the First Avenger, which he enthusiastically endorsed. Joe, may your red, white, and blue shield never lose its luster. I'll miss you.
(My appreciation of what the character of Captain America has meant to me over the years can be found here.)