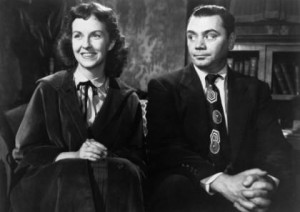 I can't honestly say that there are that many performers out there whose passing makes me feel a pang of loneliness and regret. Ernest Borgnine, who died yesterday at the age of 95, was one of them.
I liked the man. It's as simple as that. He was someone I was always happy to invite into my home via my TV set and spend a couple of hours or a brief thirty minutes with. I especially liked the fact that, late in his career, he decided to insinuate himself into my children's lives through one of their favorite cartoon programs. He was never less than watchable, whether in his earliest, pre-Marty roles or in his very last projects.
My earliest memory of Borgnine was most likely seeing him in Willard, a 1971 a horror movie. He played Al Martin, the cruel boss of a shy young man, Willard Stiles; Willard achieves his revenge by setting his pack of trained rats on Martin. This role was a throwback to some of Borgnine's earliest film roles, in which he'd played memorable heavies in such films as From Here to Eternity (1953) (in which he beat Frank Sinatra to death) and Bad Day at Black Rock (1955) (in which he bedeviled heroic, one-armed Spencer Tracey).
But my most memorable impression of Borgnine came, as it did for so many of his fans, from his Academy Award-winning portrayal of lovable Bronx loser Marty in the 1955 film version of Paddy Chayefsky's 1953 teleplay, which had starred Rod Steiger. I've watched both versions, and to my mind, Borgnine is the definitive Marty. You felt sorry for Steiger as Marty, but you fell in love with Borgnine's Marty.
In later years, I was always pleasantly surprised whenever I'd see Borgnine show up in movies such as The Wild Bunch, The Dirty Dozen, The Poseidon Adventure, The Black Hole, and Escape From New York. But he remained on the periphery of my consciousness until 2009, when my family and I moved to Northern Virginia, to an area where reception of broadcast TV was sketchy, and we signed up for satellite TV. From that point on, my three young sons became enormous fans of SpongeBob SquarePants.
I'd heard some pretty negative things about SpongeBob from some fellow parents, who considered it way too irreverent for the kiddies. But, out of curiosity, I sat down with my boys and watched a few episodes. And really, really liked them. Not too long thereafter, I watched an episode from the show's 1999 first season, "Mermaid Man and Barnacle Boy," which portrayed SpongeBob's and Patrick's first visit to the Shady Shoals Rest Home, refuge for two elderly, retired costumed crimefighters, Mermaid Man and Barnacle Boy, obvious stand-ins for DC's Silver Age Aquaman and Aqualad. As soon as the semi-senile Mermaid Man uttered a word, I shouted to my wife, "Hey, that's Ernest Borgnine! That's brilliant! They got Ernest Borgnine to play a senile superhero!"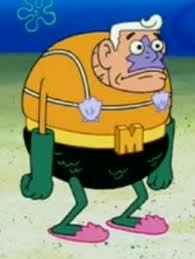 I soon learned that Mermaid Man and Barnacle Boy (voiced by veteran movie and TV comedian Tim Conway, who'd been one of Borgnine's costars in the TV series McHale's Navy [1962-66]) had become two of the most popular "guest characters" on the show and that they had reappeared in many subsequent episodes. I bought my kids a DVD compilation of the best of the SpongeBob episodes guest-starring Mermaid Man and Barnacle Boy. Having been a superhero comics fan ever since I'd been my boys' ages, I "got" all the jokes, even more so because my favorite DC stories had been the Silver Age Justice Society "return from retirement" stories (whose narrator, usually Gardner Fox, regularly referred to the Earth-Two Superman as "the gray-haired guardian" and had Hour-Man and the Atom kvetching to each other about how rusty their fighting skills had become during their rescinded retirements, and artist Mike Sekowsky generally drew the Golden Age Wonder Woman as a grandmotherly matron who looked a good bit older than her Justice Society teammates, which even as a kid I thought was horribly unfair). Mermaid Man and Barnacle Boy could also be thought to be paying a "tip of the hat" to Frank Miller's reconceptualization of Batman as an embittered senior citizen in The Dark Knight Returns; but their whimsical portrayals of superheroic decrepitude owe a lot more in tone to the fond, semi-humorous portrayals of DC's Golden Age heroes in their frequent team-ups with their younger Earth-One counterparts, the Justice League, in the 1960s and early 1970s. I could certainly picture Gardner Fox's and Mike Sekowski's Hour-Man doing Earth-Two TV commercials touting an arthritis relief pill that provides full relief from pain in "much less than an hour!"
The high quality of the show's writing aside, Ernest Borgnine's vocal characterization was simply spot-on. I can't imagine any other actor doing the voice of Mermaid Man. I'm afraid the creators of SpongeBob SquarePants will have to retire the old superhero for good. Either that, or they can take a leaf from DC's book and have younger protégé Barnacle Boy step into the saggy old uniform of Mermaid Man and take up the role. Were he still alive, Tim Conway's old costar from The Carol Burnett Show, Harvey Corman, could become the new Barnacle Boy. But how about Carol Burnett as a new Barnacle Girl? She's done some fun animation voice-over work recently (notably in The Secret World of Arrietty [2012]).
Here's a parting quote from Borgnine, concerning his several-weeks marriage to singer Ethel Merman (and note the eerie similarity of her surname to the title of one of his greatest characters):
"Biggest mistake of my life. I thought I was marrying Rosemary Clooney."
That's the spirit!