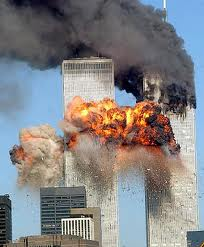 Have the events of 9-11-2001 and the sociopolitical changes they spawned been mostly absent from science fiction? Or have they been present, even prevalent, but disguised?
Earlier national traumas and social upheavals of the 20th century have been widely reflected, either directly or through metaphor, in works of science fiction published not long after the precipitating events. Ten years have passed since September 11, 2001, and yet the destruction of the Twin Towers is referenced in only a handful of SF and fantasy stories and novels, and the resulting Global War on Terror in but a handful more. The issues and themes brought to the forefront by these events had been eagerly explored by science fiction writers in earlier decades — the threat posed by totalitarian religious sects (Gather, Darkness, Fritz Leiber, 1943; The Eleventh Commandment, Lester del Rey, 1962); the enormous powers of destruction new technologies might place in the hands of aggrieved individuals (The Stars My Destination, Alfred Bester, 1956; The Weapons Shops of Isher, A. E. van Vogt, 1951); and the power of a properly motivated individual or small cell of individuals to cause hugely disproportionate damage to a large society (Wasp, Eric Frank Russell, 1957). What is it about 9-11 and the following events which have proven different from earlier events of similar magnitude, such as the introduction of atomic warfare, the assassination of John F. Kennedy, or the Vietnam War?
The modern era of science fiction in the United States began with the initial publication of Amazing Stories in 1926 and can be said to have achieved its earliest full flowering during the late-1930s rise to prominence of Astounding Science Fiction under editor John W. Campbell. Since the late 1930s, several traumas or massive upheavals of national or international scope have impressed themselves widely upon the American consciousness and registered in American popular culture. These include Pearl Harbor and the American involvement in World War Two; the beginning of the Atomic Age with the atom bombing of Hiroshima and Nagasaki; the Cold War against the Soviet Union and its allies; the assassination of President John F. Kennedy; the Vietnam War; the social changes of the 1960s, including the advances of civil rights, feminism, environmentalism, and the Sexual Revolution; and, most recently, the terror attacks on New York City and Washington, DC of September 11, 2001 and the subsequent Global War on Terror, encompassing the wars in Afghanistan and Iraq and the expansion of homeland security efforts domestically.
Prior to the 9-11 attacks, American science fiction writers responded in their work to the earlier traumas and upheavals in a relatively expeditious and prolific fashion, on the whole. Although concurrent fictional responses to the events of World War Two were somewhat curtailed by the fact that so many members of the professional SF writing fraternity found themselves drafted for the duration, the dramatic and world-changing end of the war by atomic bombings spurred the creation of large numbers of works. Stories and novels examining the possibilities of widespread atomic warfare and its aftermath began appearing as early as 1946. Outstanding early examples included Judith Merril's "That Only A Mother" (1948), Theodore Sturgeon's "Thunder and Roses" (1947), and Wilmar H. Shiras's Children of the Atom (1953). A complete bibliography of atomic war stories from the 1940s to the 1960s would run many pages long and feature dozens of writers. George Orwell's 1984, the classic fiction extrapolation of totalitarianism, was written in 1948, three years after the end of World War Two, in reaction to the crimes of both German Nazism and Soviet Communism. Philip K. Dick's The Man in the High Castle (1962), a classic work of alternate history, postulates the shared occupation of the United States by Imperial Japan and Nazi Germany. Cold War themes were reflected in many of the satirical stories of Robert Sheckley, one of the leading lights of Galaxy Science Fiction, which, along with Astounding, was among the most popular and influential of the 1950s SF magazines. Ray Bradbury's Fahrenheit 451 (1953) was widely thought to be a reaction to McCarthyism (although the author has denied this as having been his intention). Pat Frank's Alas, Babylon (1959) portrays the aftermath of a hot war between the U.S. and the Soviet Union, as does Nevil Shute's On the Beach (1957), later made into a major film.
The assassination of John F. Kennedy, or alternate history variations of it, has inspired numerous memorable works of science fiction. By himself, Barry N. Malzberg wrote a small shelf's worth of books and stories centered around the assassination, most notably The Destruction of the Temple (1975). Gregory Benford's Nebula Award-winning Timescape (1980) hinged on the assassination, and an entire collection of "what ifs" was published in 1992, entitled Alternate Kennedys. An entire movement in science fiction, the New Wave, spearheaded by Michael Moorcock in Britain and Harlan Ellison in the U.S., focused on extrapolating the revolutionary social and political trends of the latter half of the 1960s. Issues examined included overpopulation (Stand on Zanzibar, John Brunner, 1968; Make Room! Make Room! Harry Harrison, 1966), feminism (The Female Man, Joanna Russ, 1975; "The Women Men Don't See," James Tiptree, Jr., 1973), the threat of environmental catastrophe (The Drought, J. G. Ballard, 1965; The Sheep Look Up, John Brunner, 1972), and the Sexual Revolution (many of the stories in Harlan Ellison's landmark anthologies Dangerous Visions, 1967 , and Again, Dangerous Visions, 1972, as well as Robert Heinlein's earlier novel, Stranger in a Strange Land, 1961).
The science fiction community found itself split over the issue of U.S. involvement in Vietnam, with many of the field's older, venerated professionals (such as Robert Heinlein and John W. Campbell) supporting U.S. policy, and most younger writers (including Kate Wilheim and Robert Silverberg), joined by a few of their elders (Judith Merril), opposing that policy. The Vietnam War, of somewhat shorter duration than the current war in Afghanistan, inspired a number of notable novels written during its span, including Robert Heinlein's Glory Road (1963), Joe Haldeman's The Forever War (compiled in 1976, but serialized during 1972-1975), and Ursula K. LeGuin's The Word for World is Forest (1973), the former book offering a favorable view of the U.S. intervention, the latter two vociferously opposed.
All of the examples offered thus far represent only a small sampling of science fiction works inspired by or written in response to major upheavals or national traumas of the 20th century. In no way should this brief listing be considered exhaustive; only suggestive of the number of works written on such themes by major writers in the field and the temporal proximity of the appearance of such works to the events which inspired them.
A 2008 article published in the online science fiction newszine io9 carried the portentous heading, "How 9/11 Changed Science Fiction," but failed to live up to its title, unless one considers visual media to be the primary driving creative wellspring of science fiction. The article focused almost entirely on movie, television, and graphic novel presentations, mentioning only Vernor Vinge's Rainbows End (2006) and Cory Doctorow's Little Brother (2008) as books by major figures in science fiction to address the Global War on Terror and the surveillance state.
As best I can determine, the earliest reference to 9-11 in written science fiction was Pat Forde's Hugo-nominated novella "In Spirit," published in Analog Science Fiction in September, 2002. It postulates a form of spiritual time travel which allows the elderly sons and daughters of 9-11 victims to travel back in time to the days leading up to the attacks on New York and Washington to be with their dead parents. It was followed shortly thereafter by Lucius Shepard's story "Only Partly Here," published in Asimov's Science Fiction in March, 2003. This story also focuses on a relationship between a survivor and a deceased victim, the survivor a member of the construction crews clearing away the debris of the Twin Towers, the victim a ghost who does not realize she is dead, who haunts a bar a few blocks away from the rubble, which is patronized by the construction worker. In my admittedly limited research, I have found only two other pieces of short science fiction or fantasy which reference 9-11 in a more than passing fashion: Mary Rickert's "Bread and Bombs," which is actually more of a response to the war in Afghanistan than it is to 9-11, and "Until Forgiveness Comes" by K. Tempest Bradford, published in Strange Horizons in November, 2008. Additionally, Bradley Denton's "Sergeant Chip," published in The Magazine of Fantasy and Science Fiction in September, 2004, winner of the Theodore Sturgeon Memorial Award, features an intelligent dog acting as a soldier in an Afghanistan-like setting; but its evocation of the horrors and sorrows of war do not seem unique to the Afghanistan theater.
The number of novels which engage with 9-11 or the Global War on Terror is similarly small. So far as I can determine, only one science fiction novel addresses 9-11 directly as the hinge of its narrative: Andrea White's young adult novel Windows on the World, published in June, 2011. Three novels address the Patriot Act, the growth of the surveillance state, and the Global War on Terror: Vernor Vinge's Rainbows End (2006), which features an international conspiracy to develop a biological superweapon; Cory Doctorow's young adult novel Little Brother (2008), which portrays a future variant of the Department of Homeland Security in a dire light; and Brian Aldiss's HARM (2007), which does the same for Britain's equivalent of DHS and whose protagonist is an innocent Muslim British citizen tortured for having published a novel mentioning in passing the assassination of Britain's prime minister. Two novels feature the extrapolation of a future Islamic Caliphate: Tom Kratman's Caliphate, published by Baen Books in 2008, and Dan Simmons' Flashback, published by Reagan Arthur Books in 2011. Additionally, my own novel, The Good Humor Man, or, Calorie 3501, published by Tachyon Publications in 2009, has the development of a future Caliphate in Europe as part of its background and features one of the Caliphate's operatives as a secondary antagonist.
Five stories and seven novels, of which only three stories and one novel deal directly with the events of 9-11-2001. This seems like a vanishingly small number, particularly given the enormous volume of fiction published from 2002 on.  Locus Magazine calculates in their February, 2011 issue that, in the nine years from 2002 to 2010, 9,420 new (non-reprint) speculative fiction novels (encompassing science fiction, fantasy, horror, and paranormal romance but excluding media-related works of fiction) were published in the United States; of these, 2,242 were science fiction novels. Far fewer speculative fiction novels were published during the decades following the invention of atomic weapons, the beginning of the Cold War, the assassination of President Kennedy, the social changes of the late 1960s, or America's military involvement in Vietnam.
By way of comparison, a relative plethora of mainstream or literary novels have been published in the past decade which engage directly with 9-11. The first of these, Pattern Recognition (2003), was written by an author who gained notoriety as a science fiction writer, William Gibson, but Pattern Recognition is pointedly not science fiction, reflecting Gibson's view that "reality has replaced science fiction." Critic D. G. Myers counts more than thirty mainstream novels as having focused on the events of 9-11, notable titles including Jonathan Safran Foer's Extremely Loud and Incredibly Close (2005), Don DeLillo's Falling Man (2007), and Claire Messud's The Emperor's Children (2006).
Why the discrepancy? Have the themes of 9-11 and its aftermath simply resonated more strongly with mainstream and literary novelists than they have with science fiction and fantasy novelists? Yet considering all the author's tools that sit within the toolboxes of speculative fiction writers — "what if?" "if this goes on…" and alternate history and alternative realities — it would seem the science fiction and fantasy writers would likely have more to say regarding the attacks of 9-11-2001 and the events of the Global War on Terror than mainstream fiction writers would. Most of the mainstream novels described in D. G. Myers' list focus on psychological accounts of the aftermath of the attacks or the moral ambiguities raised by the War on Terror. Science fiction authors can do this as well, of course, but they can potentially do so much more: focus on the Clash of Civilizations between reactionary Islamicism and Western modernity, perhaps on ways this clash can be elided or lessened; perform thought experiments regarding potential future evolutions of the Islamic world; and extrapolate potential future tools of combat and civil defense particularly appropriate to asymmetrical warfare.
Yet science fiction has often been a surprisingly timid and commercially conservative field of publishing. In his essay from The Engines of the Night: Science Fiction in the Eighties entitled "Tell Me Doctor If You Can That It's Not All Happening Again," SF author and critic Barry N. Malzberg lists seven plots, varieties of extrapolation, or stylistic devices which would render a story or novel essentially non-marketable to professional editors in the science fiction and fantasy fields. He calls these "the taboos of science fiction."
Do the modern day "taboos of science fiction" include an extrapolation of the potential danger of radical Islamicism? Several anecdotes suggest this is so. The venerable and highly honored science fiction writer Norman Spinrad has tried for years to get his SF novel Osama the Gun published in the U.S. Even after having the book published in France, he has had to resort to e-publishing the book himself in the U.S., as he describes in his blog, after Tor, publishers of his previous novel in the U.S., apparently passed on the opportunity to publish Spinrad's extrapolation on the global jihad. Dan Simmons shared Spinrad's interest and concerns, as expressed in an "interview with a time traveler" editorial he published on his blog in 2006. His recently published novel, Flashback, is a near-future extrapolation of many of the concerns and fears he listed in his 2006 editorial. It has been savaged in several major review publications, not for the quality of its storytelling, but for its supposed "Islamophobia." Simmons tried to preemptively head off such criticism by denying at length that he shares the political outlook of his novel's protagonist; however, his stratagem appears to have failed.
My own relatively minor usage of the notion of a revived Caliphate in Europe in my novel The Good Humor Man, or, Calorie 3501 also prompted a similar bit of moral outrage from a reviewer. A good portion of my book's plot was based upon that of Dashiell Hammett's The Maltese Falcon; in Hammett's classic detective novel, the characters are all searching for the jewel-encrusted statue of a bird, whereas in my book, the characters are all searching for the preserved, liposuctioned belly fat of Elvis Presley. I wanted one of my minor antagonists, an operative of the European Caliphate whom I called the Ottoman, to be a reflection of the sort of shady, unctuously violent characters Sidney Greenstreet used to play in the film adaptations of Hammett's books. The first review of my novel to appear came from e-publication Strange Horizons, whose reviewer excoriated the book for what he termed "crude racial stereotypes," devoting much of his review to his visceral distaste for the Ottoman character.
Publishers may be seeking to preempt such critical reactions by simply rejecting books that deal with radical Islamicism or jihad out of hand. It may be instructive to remember that one of the earliest events of what some commentators call the Clash of Civilizations was the Ayatollah Ruhollah Khomeini's imposition in 1989 of a death fatwa on British author Salman Rushdie for the latter's publication of The Satanic Verses. This marked the first time an Islamic leader had reached outside his own society to promise violence on a prominent citizen of a Western nation; it certainly has not been the last such episode. Earlier this year, a professional colleague of mine warned me that no major publisher in the U.S. would want to handle my most recent novel, an eschatological fantasy-satire positing the return of the Old Testament God of the Hebrews to Earth, called The End of Daze. His most pointed remark was, "Are you ready for the fatwa?"
Are science fiction novels extrapolating the rise of radical Islamicism not being written, or are they being written but not being published by traditional publishing houses and imprints? In the not too distant past, answering this question would have been virtually impossible, outside of a major effort to interview a large sample of working science fiction writers regarding projects they had been unable to successfully market. However, the recent surge in e-publishing provides a sample of books which have not been published by the major houses. Amazon lists 46 science fiction and fantasy books which they classify as focusing on the subject of "jihad." Of these 46, the majority are either Brian Herbert's Dune sequels or gaming-related books in the Battletech series. However, the following titles appear as Kindle editions or Print on Demand paperbacks, meaning they have most likely been self-published:
The Wormwood Trumpet by C. F. Allison (2003)
Galactic Jihad by Victor De Grande (2004)
Jihad from Hindukush to Armadeddon by Sunita Joshi-Ford (2008)
The Jihad Epiphany by Tom Christian (2010)
Liberation (Celestial Jihad) by Christopher Mooney (2010)
Countdown to Armadeddon by Edward M. Lerner (2010)
Reset Never Again by R. J. Rummel (2010)
No More Time for Sorrow by Dr. Robert Beeman (2010)
The Gomorrha Conjurations by William Maltese (2011)
I have not read any of these publications and so cannot vouch for their quality. However, it seems somewhat suggestive that three times as many novels (nine) have been self-published on the theme of extrapolating a future Caliphate or the worldwide triumph of radical Islamism as have been traditionally published (three, if you bother to include my book, which is primarily a satire on trends in governmental banning of various fattening foods). Could any of the nine books listed above have been published by a traditional house if their subject matter had not been considered outre? That is a thought experiment which would require a panel of professional editors in the science fiction field to work through… which will most likely never happen. It is interesting, nonetheless, to note that two-thirds of the self-published works listed above have appeared within the last two years. That could either reflect the fact that the rapid and widespread recent proliferation of electronic reading devices has encouraged a fresh horde of amateur novelists to self-publish on Amazon; or that readers interested in extrapolations of trends begun by 9-11 and the Global War on Terror have grown tired of waiting for traditional publishers to feed their interests and so have taken matters into their own hands and published their own extrapolations.
Perhaps we'll have a better understanding of all this by the twentieth anniversary of September 11, 2001.