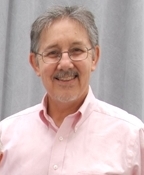 My morning began with a shock — one not wholly unexpected, but a shock, nonetheless. I learned from a message his sister-in-law Cynthia left on his blog, A Commonplace Blog, literary critic D. G. Myers (David to me) passed away from cancer this past Saturday, Shabbat Shuvah (the Sabbath of Repentance), at the age of sixty-two.
Although I never had the pleasure of meeting him in person, David was a friend. A true friend. I can't remember now how I stumbled upon his wonderful blog, so rich with essays about standout writers and books from the past hundred years. I think perhaps I was searching for articles on Philip Roth, a particular favorite of David's, or on Saul Bellow's novel Mr. Sammler's Planet, which I intended to read. After reading David's incisive, compelling essay, I found myself going back for more and more; his blog is a cornucopia of riches, some of the best book-related reading I have found on the Internet. I began leaving David messages on his blog, and when we struck up a personal correspondence, we discovered we shared a love of science fiction. David was primarily familiar with Philip K. Dick (see his essay on The Man in the High Castle here), but he was a self-described novice regarding the rest of the SF field, and he asked me for recommendations of new books coming out that he should review. I sent him several lists compiled from the Locus Online list of forthcoming books, which David really appreciated.
Our correspondence grew more personal, particularly on my side. He provided much sympathy and needed perspective when I suffered an estrangement from my mother and step-father two years ago. Then, when my oldest son became very ill, he was again a pillar of support. We exchanged many messages when he suffered the great disappointment of being let go (most unfairly, I think) from his post as literary critic for Commentary Magazine, a position he had cherished.
As his cancer, formerly in remission, returned and worsened, David's essays grew more infrequent and more personal. The last essay he posted was perhaps the most poignant. I consider it a small masterpiece of wisdom regarding the approach of death. It is called "Choosing Life in the Face of Death." It is an essay which I expect to refer back to regularly as I proceed along life's down slope. Please take a few moments to read it; you will be very grateful that you did. In a media (the Internet) so choked with the ephemeral and inessential, this is a piece of thinking, feeling, and writing which deserves to last, and which will last.
David, may your memory be for a blessing. Knowing you and reading you has been a blessing for me.
More tributes to David can be found here. Also, Cynthia, David's sister-in-law, has posted information on memorial funds which have been set up in David's memory, as well as funds for his three children.