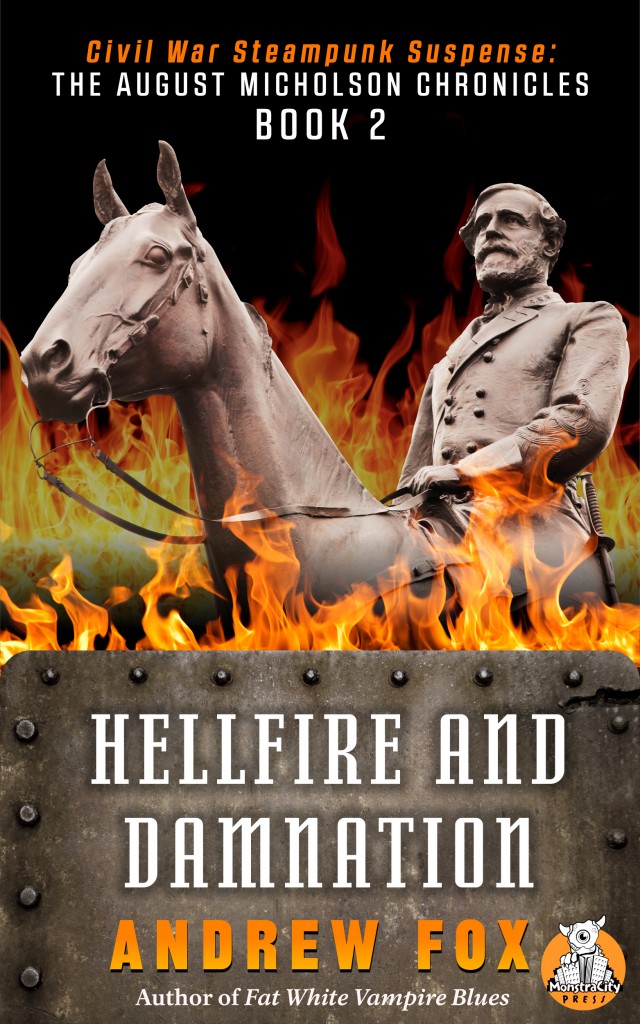 This is the cover for my upcoming book, Hellfire and Damnation: the August Micholson Chronicles, Book 2, coming out from MonstraCity Press in August, 2014. And here is the "teaser" for that book:
The second book in the thrilling Civil War steampunk supernatural suspense series begun with Fire on Iron. In this installment in the series, August Micholson must clear his name — he is accused of being a traitor to the Union and a sabateur and faces a court martial. He escapes his prison in an observation balloon, but then he is faced with monumental twin challenges — restoring the mental health of his "madness plague"-striken wife Elizabeth, and figuring out a way to halt General Robert E. Lee's invasion of Pennsylvania!
_____________________________________________________________________________
Here's a gallery of the work that James of the Humble Nations: the Book Covers, Musings, & Fiction of 'Cheap Literature' Smith' has done for me thus far:
James has hundreds and hundreds of pre-made covers available for writers to purchase for $35 apiece, and he often offers specials on them. If none of his pre-made covers work for you, he also does what he calls "Commission Rapide," which is where you pick out a few images from ShutterStock and give him your title and instructions, and "Full Commission," where you let him do all the work and he presents you with three different alternatives. He is very easy to work with and very friendly, and his prices are some of the best out there. As you can see from the gallery above, the quality of his work is quite high (the book covers are all "Commissions Rapide," and the logo was a complete original that he put together for Dara and me for MonstraCity Press). He does ebook covers and for a small additional charge turns an ebook cover into a full, wrap-around cover for a CreateSpace or Lightning Source/IngramSpark trade paperback. I highly recommend him!