Here are more memories of Levi's tenth birthday on November 5. I took him, Asher, Judah, and one of their pals out west to Dinosaur Land. Dinosaur Land is a traditional roadside attraction, about fifty years old, that has both "old style" dinos from the 1960s and "new style" dinos, sculpted by Virginia artist extraordinaire, Professor Mark Cline.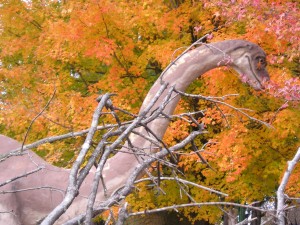 I'd recently bought a "new, old-stock" memory card for my ten-year old Olympus digital camera (whose card had given up the ghost). I hadn't taken any photos since the spring, when the card had died. Amazon had some 50 Meg cards in stock (which I later realized was even TINIER than the card I'd purchased ten years ago!). But it still held about 90 photos, so I was back in business. My goal for the morning (aside from celebrating Levi's special day) was to capture shots of the dinos with fall foliage in the background. This first one is of an Apatosaurus (or, as they used to be known, Brontosaurus). Looking good for an old guy, I think! The fall colors set off his skin tones so nicely.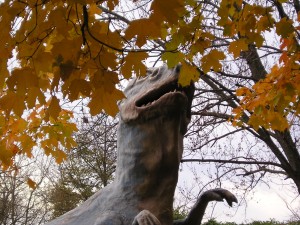 I believe this next picture is of an Allosaurus (I forgot to take notes while taking the pictures). I took a couple dozen of these over an hour and a half, and I'll be sharing them over the coming weeks, as the mood strikes me.
Here's an update on my mental/medical status. These past couple of days, I've been feeling/doing a bit better. I just started taking a mood stabilizer, in addition to my anti-depressant and panic attack-reducing medications. I believe the new medication is helping me to suffer fewer wide mood swings. This morning, rather than waking up with a "ball of furious cats of anxiety" jumping on my head, face, and neck, I woke up thinking what Peter Pan might call "lovely thoughts." I spent my first waking hour reflecting on how many of my closest relationships I have had an opportunity to improve since being released from the hospital the Monday after Thanksgiving (December 2). My best moments in other times of crisis have been thoughts of what my recent experience could or had changed for the better. This, now, is no exception. In the last week, my relationships with my angel of a wife, Dara; my brother, Ric (who visited my family); my dear high school friends, Maury Feinsilber and Larry Leibowitz, who also came to visit; my mother-in-law, Phyllis Levinson, who has made her initial visit to Virginia just a day ago to be with me and with Levi; and with many family and friends I've spoken with over the phone (Paul Jerome, Charlie Pellegrino, my sister, Robyn, Adam Castro, and my father, Dick Fox)… all of these relationships have been deepened by these dear people sharing time with me (and my family) during our time of awful trouble.
Today I also reached an important milestone for my improvement: for the first time since being out of the hospital, I drove my Kia Rondo. Until now, I've been driven by friends or by my mother-in-law. But today I wanted SO much to try, to see if I could drive safely, that my therapist gave me permission (after I'd described my emotional and physical state) to do so, after I had practiced in the parking lot. I was so PROUD of myself — I drove several miles and navigated without any problem at all! Next week, when I begin doing half days of group therapy at an outpatient clinic in Fredericksburg, which is about forty minutes from my home, I plan to drive myself (my first day with either my mother in law or my wife in the passenger seat). I am excited and optimistic, for one goal I NEED to master before January 2, when I plan to return to work at US ICE in downtown Washington, is driving myself to the Manassas Train Station each morning and back home in the afternoon. I'll be working a reduced schedule at first (I think), and driving will make it possible.
Thank you to all who have followed my blog recently and who have left such heartfelt, affecting comments for me. I've tried to answer them all. I love each and every one of you, and I SO look forward to making more of my books (both written and soon to be written) available for you in all the popular formats.
I'll post more "Autumn Color Dinos" photos in the coming days. Please continue to come back and look!