Ah, fall! My favorite season of the year. After sweating through the summer, arriving at the office with my shirt stuck to my back and perspiration dripping down from behind my ears, I always welcome that first hint of fall coolness, which, in Northern Virginia, generally arrives sometime around the middle of September. (Back in New Orleans, it generally didn't hit until after Thanksgiving, and in Miami, it might never arrive at all.)
A fun aspect of the season in this region is all of the fall festivals and pumpkin patches that sprout up between September and Halloween. Every garden center and nursery with a bit of extra land throws up a bunch of seasonal decorations and a bounce house or two for the kids (the better to drag in their parents). Some nurseries really go whole hog. My family's favorite pumpkin patch/mini amusement park features half a dozen bounce houses and inflatable slides, a Nerf gun combat zone (featuring compressed air-powered Nerf rifles, pretty bad-ass), and, most distinctively, potty racing. Yes, potty racing. Actual toilets have been fitted with go cart motors and steering tillers. You sit on the throne just like you would in the privacy of your own bathroom. Just be careful — they're tippy around corners!
Another fantastic attraction is Shenandoah National Park, famous for its 120 mile-long Skyline Drive, which winds through the Appalachian Mountains. I tried taking the boys and our friend Maury to the park at the height of the fall color, but the line of cars poking out from the park's entrance looked like the line at Disneyworld during Christmas break, so we took a pass. However, the boys and I headed back a week later, on Levi's tenth birthday, to have a look at what color still remained. It was an overcast day, so we didn't get to see the full brilliance.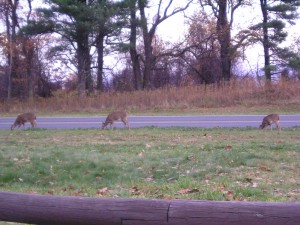 However, we spotted tons of wildlife! Three deer posed for us alongside one of the visitor centers.
Even more excitingly, we saw an entire family of bears. We pulled over when we passed a gaggle of cars all parked next to a particular tree. The boys and I got out of the car, looked up, and saw a trio of bear cubs in the highest branches, eating berries. A woman next to us warned that another bear was coming up towards the road from the woods below. This turned out to be the momma bear, so we all scooted back into our cars. Goldilocks was nowhere to be found — or was she? Maybe she was the lady who warned us back into our car?