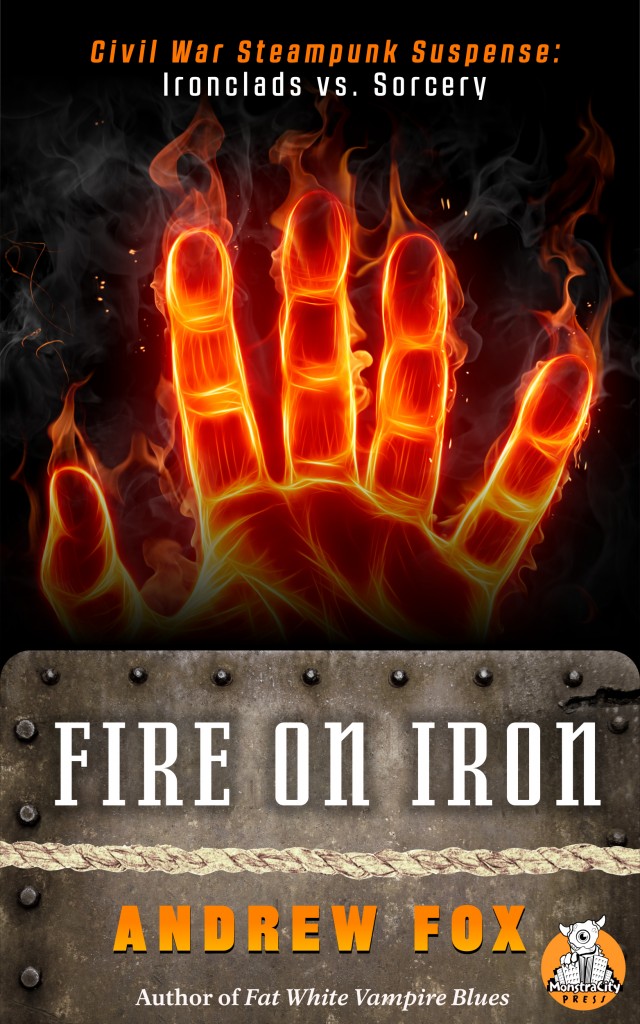 I am very, VERY pleased to announce that the first book to be published by MonstraCity Press will be my steampunk supernatural suspense novel, Fire on Iron. It will be available in all the popular ebook formats and as a trade paperback this October. The first of many projects to come from MonstraCity Press!
Here is the back cover copy:
"What price redemption? Is martial honor worth the cost of one's soul?
"Lieutenant Commander August Micholson lost his first ship, the wooden frigate USS Northport, in reckless battle against the rebel ironclad ram CSS Virginia. However, Flag Officer Andrew Foote offers the disgraced young Micholson a chance to redeem himself: he can take the ironclad gunboat USS James B. Eads on an undercover mission to destroy a hidden rebel boat yard, where a fleet of powerful ironclads is being constructed which will allow the Confederate Navy to dominate the Mississippi.
"But dangers far more sinister than rebel ironclads await Micholson and his crew. On the dark waters of the Yazoo River, deep within rebel territory, they become entangled in a plot devised by a slave and his master to summon African fire spirits to annihilate the Federal armies. Micholson must battle devils both internal and external to save the lives of his crew, sink the Confederate fleet, and foil the arcane conspiracy. Ultimately, Micholson is faced with a terrible choice — he can risk the lives of every inhabitant of America, both Union and Confederate, or destroy himself by merging with a demon and forever melding his own soul with that of his greatest enemy.
"Book 1 of Midnight's Inferno: the August Micholson Chronicles"
I believe my protagonist August Micholson will be rather unique – a steampunk amalgam of Dr. Strange and the Human Torch, with a great deal of multiple-personality complications mixed in. My next project will be the second book in the Midnight's Inferno series.
More news to come, both regarding the Midnight's Inferno books and other exciting projects from MonstraCity Press – so watch this space!