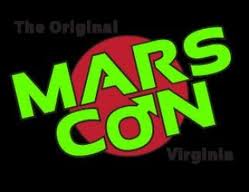 For the third year in a row, I'll be heading down to Williamsburg, Virginia for MarsCon. Unfortunately, this year, unlike last, I won't have my family with me. One by one, the boys have been dropping with various varieties of the winter crud. It's a real shame, because MarsCon features one of the best tracks of family/children-friendly programming that I've ever encountered. And the boys were tremendously looking forward to it (and to the indoor swimming pool at our hotel). (Whoops! Not so fast! See update at the bottom of this post.) I'm not in the best of shape myself, with my wheezing and sneezing, but it looks as though I will drag myself to the con, anyway, because (a) I don't like backing out on commitments, and (b) I booked my hotel room through Priceline, and my booking is non-refundable. So, if I'm paying whether I go or whether I stay home in bed, I might as well go stay in bed at the Clarion and drag my carcass over to the con as needed.
Here's the general info on the con:
MarsCon 2013
Crowne Plaza Williamsburg at Ft Magruder
6945 Pocahontas Trail. Williamsburg, VA 23185
(hotel is currently sold out; if you want to go, check with the Clarion down the road, where I'll be staying)
Writer Guest of Honor: David B. Coe (very nice guy!)
At the Door Registration Rates for the Weekend:
Adult – $45.00
Children (6-12rs Old) – $22.00
Children (1-5 yrs old) – Free with adult
Student/Military Rate:
This year MarsCon will offer a discount to Students and Active Military, for a Saturday Only! pass, of $25.00. ID must be presented.
For anyone interesting in where I'll be at the con, here's my schedule:
Friday, January 18, 2013
They Rise Again! Discussing Reborn Monsters like Vampires, Zombies, Mummies & Frankenstein
8 PM – General Longstreet's
Tony Ruggiero (M), Tim Liebe, Andrew Fox
Undead monsters are doubly appropriate to our theme of rebirth: they've been reborn from the dead, and every few years their popularity is born again. Our panel of experts will examine as many classic and current favorites from fiction, film, and elsewhere as their hour of time will allow. Come prepared to share the undead that are unforgettable to you.
Saturday, January 19, 2013
Writing 101 Workshop
11 AM-1 PM – Abraham Lincoln
Allen Wold, David B. Coe, Darcy Wold, Danny Birt, and Andrew Fox
Hundreds of writers have benefitted from Allen Wold's instruction at MarsCon in the years that he has led our writing workshop. Sharpen up your pencil or charge up the laptop's battery and come ready to write and take constructive criticism from Allen and his team of successful writers.
Guest Authors Reading
4 PM – Stuart's Redoubt
Steve White (M), Marina Sergeyeva, Will McIntosh, Andrew Fox, Barbara Friend Ish
It's a second hour of MarsCon's fantastic writer guests featured in eight minute sets. This is your chance to see what's forthcoming from these creative talents, get an autograph, or see which writer's works you'll want to seek out for your next read.
Sunday, January 20, 2013
Post with the Most: Starting a Blog
10 AM – General Early's
David Coe/D. B. Jackson (M), Tamora Pierce, Andrew Fox
Think you've got something to say? Perhaps blogging is for you. And who better to learn about it from than three of MarsCon's best authors, including two Guests of Honor. They'll explore both the mechanics of starting a blog, hints for finding readers, and advice for crafting the best of posts. Get up and get motivated with this excellent session.
Updating a Classic Group Write: Authors Re-imagine a Classic Scenario Live
Noon – General Hooker's
Danny Birt (M), Stephen Simmons, Andrew Fox, Patrick Vanner
Four great writers will create a new version of a classic story with help from suggestions from the audience regarding the story to revise, the characters, the setting, and the some of the conflicts and plot elements. With your help, they'll spin a new tale from familiar straw. Come and get insight into the creative process at work and enjoy a great story at the same time.
Remembering Ray: a Bradbury Memorial Hour
2 PM – Stuart's Redoubt
Andrew Fox (M), Diana Bastine, Lyn C.A. Gardner, Mary and Terry Gray
We lost one of the all-time greats last year, that grand old man of science fiction and fantasy, Ray Bradbury. The panelists will each discuss the influence Bradbury had on their writing or fandom and offer appreciations of some of his great works such as Fahrenheit 451, The Martian Chronicles, Dandelion Wine, and Something Wicked This Way Comes. Then they'll open up the floor for your remembrances of Ray. Think about when you first encountered this giant or what you took away from one of his masterworks and come prepared to share.
UPDATE: No sooner than ten minutes after I posted this, my wife called to report that the boys are (a) devastated at her announcement that they won't be going to MarsCon, and (b) insisting that they're all feeling better. And (b) appears (at least according to Dara) to not be complete BS. So, now it appears I will have the full family in tow, after all. Much happiness ensues! I only hope their recoveries can last through the full weekend.