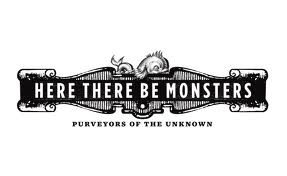 This past Friday, I finished my initial polished draft of The Runaways of Mount MonstraCity, which is: (a) my shortest novel ever; (b) my first middle grades novel; (c) my first book to be critiqued by one of my sons (Levi, my eight-year-old). It came in at just under 68,000 words, or about half the length of my other novels (yet the length of a typical 1960s science fiction paperback original). I'm aiming this at readers a little more sophisticated than those who enjoy the Goosebumps books, which run (I think) 30,000-40,000 words, so I'm hoping the length won't prove a detriment when my agent starts sending it out to editors. My ideal readership, I'm pretty certain, would start out with eight-year-olds who are strong readers (like Levi, who didn't have any trouble with the book) and would extend to twelve- or thirteen-year-olds. (But I'm also putting in plenty of "Easter eggs" for any adult readers to enjoy, adults who loved monster movies as a kid.)
The book (number one in a series, I hope, hope, hope) is an action-adventure-horror story set on an island city called Mount MonstraCity, located a little more than seventy miles west-northwest of Seattle, Washington. Monstra Island (named for Mount Monstra, an active volcano located at its northwestern corner) was settled early in the nineteenth century by members of the Frankenstein clan, who were driven out of Europe for the crime of creating monsters. They selected Monstra Island on which to settle because of its remoteness from civilization (but not so remote from North America that trade would be impossible) and because of its proximity to unique subsea radiations – radiations which are very interesting to the scientifically curious Frankensteins, and which are later discovered to have their origin in a 30,000 year-old spacecraft partially buried in a crater on the ocean floor. The Frankensteins established Mount MonstraCity as a haven for monsters of all types from every corner of the world. Vampires came to settle a neighborhood called The Castles; Ghouls inhabit Ghoul Gulch; Werewolves settled throughout the Wolfen Woods; Kabbalists and their Golems created a walled village called the Golem Ghetto; etc. "Normie," or normal human beings, may earn citizenship in Mount MonstraCity, as well, so long as they can become successful Mad Doctors or Mad Scientists and patent inventions or medical advancements which bring revenue to the city. Aside from high-tech and medical innovation, Mount MonstraCity's other major industries are its film industry (no CGI required) and tourism sector (which invites visitors to experience safe, guided hauntings within one of the mansions of Ghost Town, just one of many horror-themed attractions).
My two protagonists are Zacherly and Cosmo Juke, two orphans who suffer bullying and frequent indignities at the Putterknuckle Benevolent Home for Orphaned Children in Seattle, Washington. Zacherly, aged eleven, aspires to become a successful Mad Scientist in Mount MonstraCity; Cosmo, aged fifteen, dreams of costarring in action-adventure-horror films with famed Werewolf actress, Donna Demonna. At a triple feature at the Phantasmo Drive-In Theater, sponsored by the Mount MonstraCity-Seattle Friendship Committee, Zacherly and Cosmo are approached by the mysterious Mr. Bleck, who offers to obtain positions for them with laboratories in Mount MonstraCity which are looking for young research interns. However, to take advantage of Mr. Bleck's offer, they must stow away on the ferry that runs between Seattle and Monstra Island. Soon thereafter, Mr. Putterknuckle, the tyrannical owner of the orphanage, forces Zacherly and Cosmo to steal clothes for the other children from a massive thrift store. After the boys are nearly caught by security guards, they flee to the ferry and embark upon their journey to Mount MonstraCity. Yet the fate that Mr. Bleck has waiting for them there is far, far different from that with which he tempted them… and the boys soon learn that real-life monsters are way more dangerous than the movie monsters they've come to love.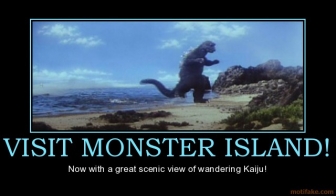 Possibly the most fun aspect of writing this book has been being able to utilize my son Levi as my first reader. Levi, quite unlike my other two boys, is congenitally unable to tell a lie (or at least to lie at all convincingly). So I can trust his feedback implicitly, knowing that he won't feed me praise he doesn't truly feel my book deserves in order to make ol' Dad feel good. His verdict? The first chapter was "a little boring" (did my best to fix that in the second draft), but the rest of the book was "Super! Lots and lots of terrific action!" He reinforced this feedback by grabbing fresh chapters out of my hands as soon as I walked through the door with them, then immediately settling down on the couch or carpet to begin reading. What was his favorite part of the book? "The mystery about Zacherly's and Cosmo's mother… can't you tell me more?" No, Levi; that would spoil future books for you!
Now, if I could only get Son #2, Asher, to be half as interested in reading as his older brother is. I'm working on it. Asher adores monster trucks and race cars. So, rather than start with a story idea for the second book in the series, I started with a title and built from that. My title?
The Monster Trucks of Mount MonstraCity
Can't you see the toy line already?
UPDATE: Last night, when I explained the basic story idea behind The Monster Trucks of Mount MonstraCity to my three sons, they were enthralled. They loved the idea of monsters who become monster trucks – in this case, Ghouls who volunteer to have their brains transplanted into experimental monster trucks powered by fuel cells, which are in turn powered by hydrogen that is provided by the Ghoul virus contained within the Ghoul brains (the virus proves capable of splitting hydrogen atoms from oxygen atoms in water, allowing the trucks to be fueled with plain, filtered water). Asher and Judah insisted that I make them toys based on characters in the book. I promised I would buy toy monster trucks and modify them (with pieces from model kits and toy tanks and what have you) so that they look like the book's characters (which I still need to design; still working on the plot outline, although that's almost done).
It's great to have a potential property under development that is so "toyetic" (that's a real word, by the way, coined by Bernard Loomis of Kenner Toys in the late 1970s, when he was in discussions with Stephen Spielberg regarding possibly making toys based on Close Encounters of the Third Kind; his neologism means "the suitability of a media property, such as a movie, for merchandising spin-off lines of licensed toys, games and novelties").
I'll share more news on these projects as it develops!