I'll be heading down to the Big Easy tomorrow (Thursday) to be a guest at CONtraflow, the first science fiction convention to be hosted in the Greater New Orleans area since a month before Hurricane Katrina hit the region in August, 2005. This will be my first visit to my former home town since my family and I picked up stakes in 2009. I'll be staying through Sunday.
They've got me pretty tightly scheduled at the convention, but I'll also have time to be out and about. I plan to stop by Octavia Books in the Uptown neighborhood to sign some books, and I'll probably pay Marita at Boutique du Vampyre in the French Quarter a visit, too. I'll have Thursday afternoon and evening free to get together with friends. If you need to reach me, use the contact form on my Contact Me page here on the website; Dara will make sure I get your message.
Here's my con schedule:
Friday, Nov. 4, 5-6 PM: I'll be reading from The Good Humor Man, or, Calorie 3501, celebrating that book's reissue as an ebook (and my birthday, by the way).
Friday, Nov. 4, 6-6:30 PM: Opening Ceremony
Friday, Nov. 4, 6:30-8 PM: Meet the Guests Party
Friday, Nov. 4, 10-11 PM: Panel discussion on "White Trash Supernaturals" with my old friend and workshop partner, paranormal suspense writer Diana Rowland
Saturday, Nov. 5, 1-2 PM: I'll be moderating a panel discussion entitled "Our Vampires are Different," with Kurt Amacker, Charles Gramlich, Victor Gischler, and Kalia Smith.
Saturday, Nov. 5, 6-8 PM: I'll be one of the judges for the Costume Contest (first time I'll be judging; should be interesting!).
Saturday, Nov. 5, 10-11 PM: I'll be reading from Fire on Iron, my Civil War steampunk horror-adventure novel.
Sunday, Nov. 6, 11-12 noon: Panel discussion on "The Importance of Place in Science Fiction" with Lou Antonelli and Kurt Amacker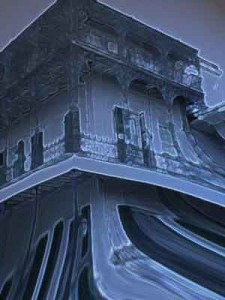 Other panels I'll attempt to attend (I'm notoriously bad at actually being present where I say I'm going to be at conventions, generally spending much more time hanging out in the Dealers' Room than I intended to) include: "History of New Orleans Fandom;" "Transhumanism Today" (with Guest of Honor David Brin); Toni Weisskopf's Baen Books Panel; "Ebooks: Is This the Future of Publishing?", "The Business of Writing;" "Apocalypse Fiction;" "Writing for the Young Adult Crowd;" "Keeping It Real: Being Accurate in Fiction" (presented by Diana Rowland, who used to be a small-town forensic examiner); and "How Not to Get Published" (gee, I should be presenting that panel, considering my growing pile of unsold manuscripts).
I'm looking forward to seeing how the old town is doing, dropping by former haunts, and seeing my mother-in-law (really, I am). I just wish timing and finances would've allowed me to bring Dara and the kids, too.